Carmelo Anthony: 'I want to win. I don't care about the money'
Knicks star denies that he cares about the money, instead contending that winning is his primary goal.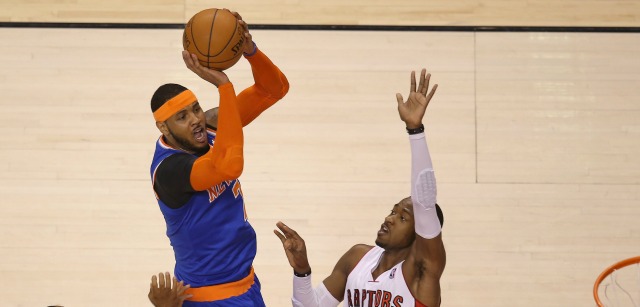 Carmelo Anthony told ESPN that his decision to return to the New York Knicks was about winning, and not about the five-year, $124 million deal he got for going back to the Knicks. 
"I want to win. I don't care about the money," Anthony told ESPN.com. "I believe Phil will do what he has to do to take care of that."

"I don't think we're that far away," he added. "People use 'rebuilding' too loosely."

"It's a matter of me believing in the organization, believing in Phil (Jackson)," Anthony said. "I wanted to go somewhere where I can end my career."

"I feel like we have a brand-new team," Anthony said. "It's a new beginning. It's excited."
via Carmelo Anthony talks about decision to return to New York Knicks - ESPN New York.
You can believe that. There's reason to believe that. Phil Jackson is a master motivator, and could convince a chicken it can fly. The roster has no cap liabilities beyond Anthony's monstrous contract in the future and can build a new contender with Phil's magical basketball awesomeness. 
And Anthony has a lot of input in New York he may not have elsewhere. And that seems like something he cares about. His wife loves New York and wants to stay there. There are a lot of reasons to stay in New York. 
And yet, I would tell you he's being dishonest in saying it wasn't about the money. Maybe it wasn't all about the money. But it was mostly about the money. 
Anthony turned down a chance to win now in Chicago for a proven coach with proven stars in a major market with a versatile roster in order to return to a team with a first-year president of basketball operations, a first-year head coach, whose second-best player is Jose Calderon. 
No, the deal wasn't made with next year in place. There are five years for Phil and Melo to find a winner. But in the NBA, you have to take the opportunities to put yourself in a good position over a good idea. Even Dwight Howard, when he left LA for Houston, was going to a team that had showed it could build a contender. The Knicks have shown no such thing.  
And it's possible that the decision was about the money, but not the actual cash. Contracts are often considered a status element in the NBA. LeBron James took a max contract, becoming the highest paid player on his team for the first time in his career, despite all the money he makes off the court. For him it was a statement of status, and a statement to the owners that stars are worth the money. Anthony's decision could be similarly motivated. 
Let's be clear here, I'm not saying Anthony shouldn't have taken the money. There are good reasons for his re-signing with the Knicks, and good reasons even if it was as simple as the money. 
Either way, Anthony was right to say it wasn't about the money. Otherwise, what message would he send to his teammates, to his fans, to the city, to sponsors, to the league? 
But to look at where he's returning, even if Jackson's right and a new Knicks era of dominance is at hand. That's a promise, an idea, not a reality. The reality is that even if Anthony's being honest and it's not about the money ... that's the most realistic way to look at the situation. Everything after that is about how you interpret the circumstances. 
An Alabama native, Barkley campaigned for Jones leading up to Tuesday's election

Kerr knew just what to say after Jones pulled off an upset in Alabama

The future of the league was on display on Tuesday night
Check in throughout the night for the latest news and highlights from NBA games

The Lakers legend details why the NBA popularity will continue to rise

SportsLine's Mike McClure, a DFS pro with more than $1M in winnings, gives optimal lineup...