Carmelo Anthony pretty much says he's playing harder for Mike Woodson
Obviously, it was all just Mike D'Antoni's fault. Not really, but for whatever reason, Carmelo Anthony essentially admitted it was, at least in terms of his play.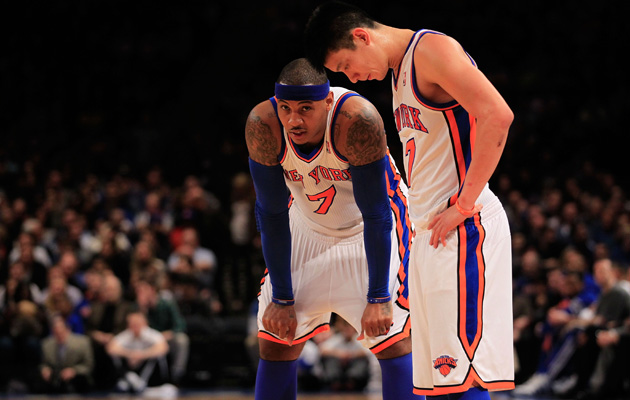 Carmelo says he's playing with more energy now. Take that how you want to. (Getty Images)
Obviously, it was all just Mike D'Antoni's fault.
Not really, but that's the assumption by some after the Knicks have gone 3-0 with three double-digit wins after D'Antoni resigned and assistant Mike Woodson took over. Thing is, the team is essentially still running the D'Antoni pick-and-roll system and playing basically the same style. Except they're playing
better
.
Why? I guess the obvious answer would be that they're playing harder. Or at least that's pretty much what Carmelo Anthony implied, speaking mostly about himself.
Via Newsday
:
"I think in the last three games, my focus was to have an energy that I haven't had so far this season, especially on the defensive end," he said. "Everybody on this team knows, everybody in the world knows I can score the basketball. It's not that important to me."
Awesome. So Melo wasn't trying for D'Antoni, but he is now for Woodson. I guess maybe that's a credit to Woodson for motivating Melo, but it shouldn't take a coaching change for Anthony to play hard. He's making a whole lot of money and his team is losing. He's supposed to be the best player, supposed to be the leader. It shouldn't take something as dramatic as a coaching change for him to play hard. Basically, Melo is admitting he quit on D'Antoni.
Which is maybe why D'Antoni
reportedly tried to push management to deal Melo for Deron Williams
. He knew he had a star that wasn't playing for him and if the team was going to go anywhere, it was going to require a roster change. That doesn't happen though in the
NBA
. Players trump coaches. So D'Antoni stepped away and Melo decided to play.
Melo said he needed a little more motivation, instead of the more friendly approach D'Antoni brings.
"When he got the job, I told him, 'Hold me accountable,'" Anthony said of Woodson. "I don't have a problem with criticism. If I can do something to help better this team, let me know. And he's been doing that."
I'm pretty sure D'Antoni probably told Melo the ways he can help better the team, like by playing defense and such, but Melo just tuned him out I guess. It happens. That's why good coaches like D'Antoni get fired. Players aren't responding, aren't playing well so a change is needed to bring in a new voice and a new energy to the team.
To assume though that Woodson has fixed the Knicks is silly. D'Antoni ripped off seven straight wins during the peak of Linsanity without Melo. And then he returned and New York went 2-8 and D'Antoni lost his job. It's no guarantee that the buzz will die down with Woodson and the Knicks will be back to the place they started.
I suppose the obvious solution here is, if you want Melo to play, just fire and hire a new coach every couple weeks.
Via PBT
CBS Sports HQ Daily Newsletter
Get the best highlights and stories - yeah, just the good stuff handpicked by our team to start your day.
Please check the opt-in box to acknowledge that you would like to subscribe.
Thanks for signing up!
Keep an eye on your inbox for the latest sports news.
Sorry!
There was an error processing your subscription.
All the deals that went down during the 2018 NBA Draft

Giannis Antetokounmpo's brother Kostas is the last player taken in this year's NBA Draft

Only one pick fell into the D range
The 2018 NBA Draft is in the books

The Hawks' stellar haul in the first-round was a huge winner on draft night

Taking a look at the good, bad and ugly from the fashion choices for the 2018 NBA Draft