Carmelo Anthony says making the playoffs won't affect his free agency
Knicks star says year's failures will have impact but not a playoff push.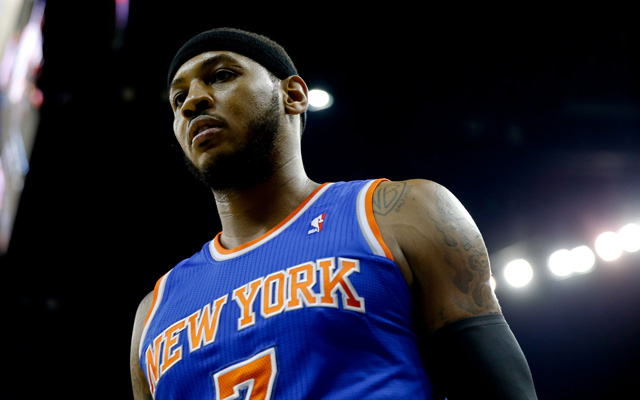 On Thursday, Carmelo Anthony said that while the craziness of this Knicks season will affect his decision making in free agency, whether the Knicks make the playoffs will not. 
FWIW, Carmelo says "us making the playoffs and my [free-agency decision] have nothing to do with each other."

— Chris Herring (@HerringWSJ) February 27, 2014
He said the craziness of the season would, but... MT @NG2_4: Isola tweeted that this season WILL weigh into Melos decision. Which one is it?

— Chris Herring (@HerringWSJ) February 27, 2014
... Carmelo said reaching the playoffs, specifically, wouldnt be much of a factor on his free-agency decision. The craziness of the yr might

— Chris Herring (@HerringWSJ) February 27, 2014
The Knicks are games back of the Hawks for the 8th seed with 25 games left, and Detroit and Cleveland still hanging around with a chance to make a move. Atlanta's also going to get healthy again at some point (their entire frontcourt minus Elton Brand has been out). So the odds aren't great. 
Anthony's decision should be predicated more on the direction of the franchise. A late playoff push and an early first-round exit, a clear step backwards, might do more harm than good compared with a simple "everything went wrong" justification. The big key will be what teh Knicks can offer Anthony this summer in the way of improving the team. 
But I still return to the same idea over and over. Anthony has always opted for the money. That's why getting traded to New York before he was a free agent under the old CBA, so he could re-sign for the max, was so important to him. On some level, you have to believe he's going to re-sign, if only becauss that fits his M.O. the most. 
Trump rescinded Curry's invitation to the White House after Curry said he wasn't interested...

Silver said he was hoping Warriors would get chance to share their views directly with the...

Along with the Thunder, those were the three teams most involved in the Anthony trade talk...
LeBron said he was frustrated by the President's recent actions

A look at the various actors and elements in the latest sensational blockbuster trade in the...

Blockbuster deal doesn't change the Thunder's projected finish in the West