Carmelo Anthony struggling with shoulder injury, will play through it
Carmelo Anthony says he'll play Sunday vs. Miami but he's having trouble lifting his arm which "gave out" Friday vs. Wizards.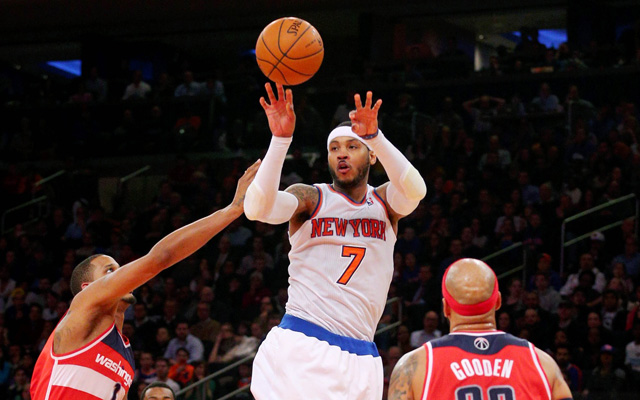 More NBA: Power Rankings | Expert Picks | Seasons in Review | Playoff Picture
There was something wrong with New York Knicks forward Carmelo Anthony Friday night. In the Knicks' loss to the Wizards, it wasn't just Melo's shooting line (5-of-14 for 10 points and no free throws, to go along with eight rebound and five assists). He was laboring, grimacing, and he had nine turnovers, often on bad passes. Something wasn't right with his shoulder. 
Afterwards, Anthony admitted he suffered an injury earlier this week and it's giving him major problems. 
Carmelo says his arm "just gave out" at one point in the 2nd quarter. Had to call timeout, bc he couldn't use it.

— Chris Herring (@HerringWSJ) April 5, 2014
Melo says the injured arm impacted him trying to make plays off the dribble, and his passing.

— Chris Herring (@HerringWSJ) April 5, 2014
The injury is not the one to the left shoulder he suffered an injury to in last year's playoffs that he skipped surgery on. It's his right shoulder, because, really, what else could happen this season for New York. But Anthony's not taking any time off with the Knicks on the verge of playoff oblivion, facing the Heat on Sunday.
Carmelo said he plans to play Sunday at Miami. Have to figure he'll get a lot of treatment between now and then

— Chris Herring (@HerringWSJ) April 5, 2014
The Knicks lost Friday in part because on the final possession, Anthony tried to split a double team out of the pick and roll vs. the Wizards. He lost the ball, J.R. Smith threw up a wild shot that was blocked, game over.
Say what you want about Anthony, but don't question his toughness. He's set to be a free agent if he opts out, and he's playing through an injury that limits his ability to raise his arm. That's tough stuff. But can he handle the ball as much with the injury? Should he?
These are pivotal questions as the Knicks face another must-win vs. the Heat Sunday.
Two of the league's young, up-and-coming squads will square off on Tuesday in Minneapolis

Kawhi Leonard is set to make his season debut for the Spurs

Lonzo Ball will make his Madison Square Garden debut
Leonard, who hasn't played this season due to a quad injury, may return with more skills than...

James, who adjusted his shooting mechanics, is on par with Steph Curry's all-time great 2015-16...

Jordan Bell had himself a night against Portland