Carmelo Anthony supports wife saying he'll stay in New York
Carmelo Anthony's wife said he's staying in New York. And Melo has his wife's back on it.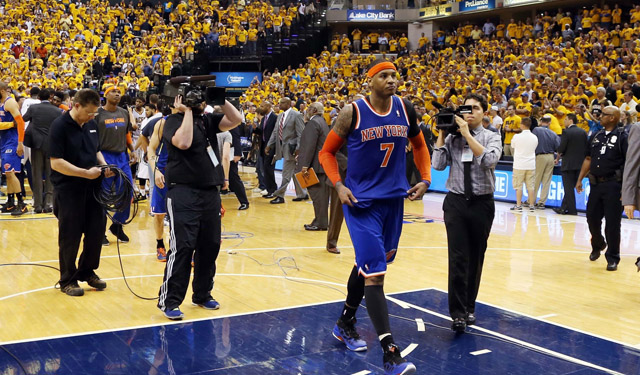 Carmelo Anthony is a smart man. 
He's not going against his wife's word. But he's also not confirming what she said.
After La La Anthony said recently of her husband re-signing with the Knicks this summer, "I definitely think he will stay."
Said Anthony on Tuesday to Zagsblog: "That's my wife. I support her. I support what she said. I don't think she said anything wrong. It's a good thing for her to say that. Go get the book."
Marketing!
The countdown to Melo's free agency is on, and there's been a lot of doubt cast in what he might do because of the Knicks' struggles. But they are playing a bit better lately, having won three straight.
Anthony has said he wants to be a free agent this summer, but hasn't indicated that he would sign elsewhere. As Ken Berger of CBSSports.com reported last week, Anthony has told close friends he's likely to stay. 
And if he told them that, I would think he told his wife, too. He's a smart man, after all.
Irving has requested a trade away from the Cavaliers

The Lakers made a strong push for Rose, but he would have been a backup in Los Angeles

The small forward spent last season with the Sacramento Kings
Knight still has three years left on his five-year, $70 million contract

The Golden State forward is accused of assault, battery and making misleading statements

The Nets get their shooter a year later, and the Blazers reportedly will waive Nicholson