Carmelo Anthony would like to get the same calls as James Harden
Carmelo Anthony isn't saying, he's just saying.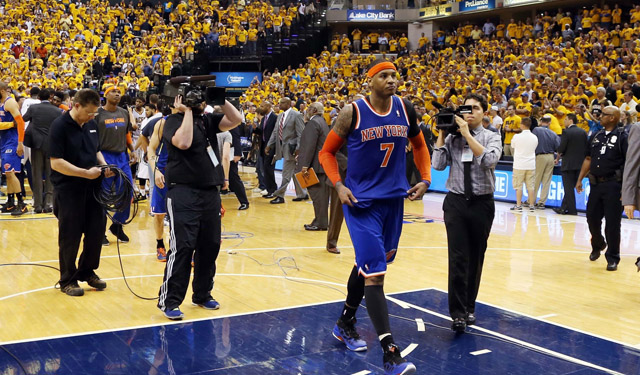 Carmelo Anthony isn't saying, he's just saying. 
Following the Knicks' 109-106 loss to the Rockets on Thursday, a game in which James Harden scored 36 points, with 16 of those coming at the free throw line, Anthony had some thoughts about the frequency in which the beared one got to the charity stripe.
Asked if it was tough that the Knicks sent Harden to the line often when they got close, Anthony replied, "We didn't put him on the line, they put him on the line."

"You look at that, you see the way that some guys get their calls," Anthony said, "and for me, I've got to get cut, you've got to see blood for me to get a call down there. So that's where the frustration comes from."
Harden took 18 free throws, the Rockets took 44, and the Knicks took 27. Harden is an extremely attack oriented player that is really good at drawing contact and calls, while Melo is more of a bruising type of guy that creates more. And let's not act like he doesn't get to the line. He took 11 on Thursday and while Harden led the league last season in free throw attempts, Melo was fifth taking 7.6 a game.
Melo also shoots a lot more from midrange than Harden does, which obviously leads to fewer free throws. Getting to the line is as much a skill as passing or shooting, and Harden is one of the best in the league at it. Melo's a pretty good at it too, but it's a lot about style and perception, and while it's understandable from Melo's perspective about the calls the Knicks didn't get on Thursday, he's not exactly on point here. 
Our advanced computer model simulated Saturday's Thunder-Cavs game 10,000 times

The Jazz are reportedly looking into trading Rodney Hood before the Feb. 8 NBA Trade Deadl...

The Cavaliers are ready to reset everything if they have to. Their interest in Lou Williams...
It sounds like the Cavaliers are going to be active before the NBA trade deadline on Feb....

We've got all the scores, highlights and news for Friday night

George Hill, who is unhappy in Sacramento, could be a solution to Cleveland's backcourt si...