Carmelo says he took a 'huge risk' in avoiding shoulder surgery
Carmelo Anthony played with a torn rotator cuff and labrum last season, but avoided have shoulder surgery this offseason, something he calls a "huge risk."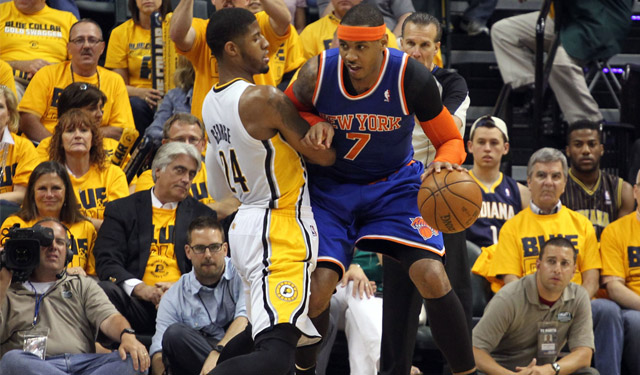 Carmelo Anthony dealt with shoulder issues for a lot of last season -- including the postseason -- which nagged at him and prevented him from playing his typical bruising, physical kind of basketball. 
Turns out those "shoulder issues" included a torn rotator cuff and partially torn labrum, Anthony admitted to reporters Saturday. 
However, Melo rolled the dice in the offseason, forgoing surgery to repair his shoulder and instead opted for intense rehab and recovery, something he called a "huge risk." Via ESPN New York: 
"I'm ecstatic going from a torn rotator cuff and torn labrum to not needing surgery," Anthony said. "Let me take that back: taking a risk in not taking surgery and letting it heal on its own. I took a huge risk in doing that. It meant I had to put more time in the offseason to do what I had to do to get it right.
"I would have been out four, five months because of the severity of the tear," Anthony said of if he would've opted for surgery.
The original injury occurred April 14 against the Pacers when Melo collided with a defender at the rim. The injury lingered with him throughout the postseason and certainly had an impact on his play against the Celtics, and then Pacers. 
"It was all types of stuff going on in there," Anthony told reporters. "It was messed up."
Still, Melo and the Knicks decided to hope things would heal on their own so that he'd be available for training camp and the beginning of the season. A risk, as Melo noted, but one that appears to have paid off.
"Everybody has their opinion and brought it to the table, everybody had their pros and cons," Anthony said. "[Surgery] was the last resort."
Rap mogul supports the vision the outspoken father has for his brand and sons

Deciding who to watch on League Pass can be difficult, but these rankings promise to help

Veteran forward signed a one-year deal with the Knicks in offseason
Knicks forward had his truck stolen out of his driveway

The Celtics will send No. 34 to the rafters in Boston when they take on his old rival

It's never too early to look at June's NBA Draft