Cavaliers G Kyrie Irving out four weeks with fractured index finger
Cavaliers guard Kyrie Irving is out four weeks with fractured index finger.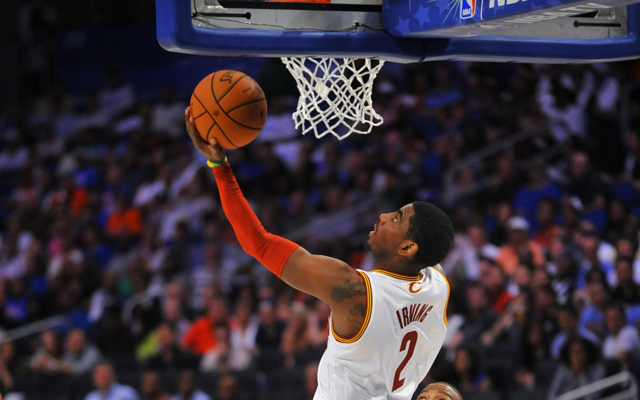 Irving will be out four weeks with a broken finger. (Getty Images)
The Cavaliers announced Monday: 
Cavaliers Guard Kyrie Irving received an MRI and CT Scan of his contused left index finger (3rd quarter of Saturday night's game at The Q vs. Dallas) today at Cleveland Clinic Sports Health.  The results of the MRI and CT Scan revealed a hairline/non-displaced fracture in the finger. The injury will be treated with taping and a splint. He is currently projected to be Out for the next four weeks while the fracture heals, and is scheduled to be re-evaluated in two weeks. His status will be updated as appropriate at that point. 
So that's not good, not good at all.
The Cavaliers are awful even with Irving, and a huge percentage of their offense goes through him. Without him, the Cavaliers are going to be laregly sunk. Well, more so. 
Dion Waiters will be expected to handle more of the load. A month is a long time to try and keep the ship afloat. Irving broke his right hand over the summer; now the left has a problem.
Irving is averaging 22.9 points and 5.6 assists this season, and had a usage rate (percentage of possessions he was responsible for) of 30 percent, which is fifth-highest in the league this season. 
Last year Durant said returning to his old home was 'never going to be a regular game'

The All-Star forward injured his wrist during Sunday's loss to the Lakers

Steven Adams believes he's the problem with the Thunder struggles in the clutch
LaVar claims that Luke Walton has been 'soft' on Lonzo so far

Allen has filed an emergency motion in an Orange County court in response to an accusation...

Larry Hartstein has been crushing NBA picks and just made a play for Bulls vs. Lakers on Tuesday...