Cavaliers' Kyrie Irving (knee bruise) won't play Sunday against Pacers
Cleveland Cavaliers' point guard Kyrie Irving is expected to miss his third straight game with a knee bruise.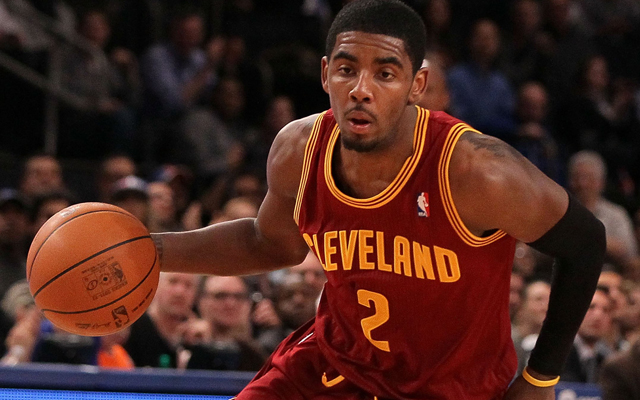 On Tuesday against the Indiana Pacers, Cleveland Cavaliers guard Kyrie Irving drove to the basket in transition and came up limping. He suffered what the Cavs are calling a "knee bruise" on the play and an MRI showed no significant injuries from the play. Irving came back into the game and finished it out, but he hasn't played in Cleveland's two games since the injury occurred. 
Don't expect him to get his revenge against the Pacers Sunday night. Irving is expected to miss his third straight game with the knee injury. The Cavaliers aren't worried about rushing him back any time soon and just want him to be completely healthy before he gets back on the court.
Don't expect Kyrie Irving (knee bruise) to suit up tonight. He's missed 2 straight gms & Mike Brown wants him to take all the time he needs.

— Scott Agness (@ScottAgness) January 5, 2014
The Cavs have gone 1-1 in the two games that Irving sat out during this stretch. They beat the Magic 87-81 on Thursday before losing to the Nets 89-82 Saturday night. The Cavs don't play again until Tuesday after today's division game against the Pacers. They'll play the 76ers before heading to Utah for Friday.
Irving sitting out Sunday's game would give him nearly a full week since the injury occurred if he decides to play against Philadelphia or a week-and-a-half of rest if he doesn't play until they face the Jazz. He's averaging 22.2 points and 6.1 assists on the season.
The Warriors used a huge third quarter to come back from a 23-point deficit to get the win

Three takeaways from Golden State's 24-point rally past the Sixers

Okafor has played only 25 minutes this season
Capela's shoe slipped off, and was sitting near the free throw line

The Magic will instead play in the Las Vegas Summer League

Ball walked away from an altercation between the Lakers and Suns on Friday night