Cavaliers' title odds remain 5/2, Andrew Wiggins' ROY odds improve
With the Kevin Love trade completed, the Cleveland Cavaliers' title odds remain 5/2, but Andrew Wiggins' Rookie of the Year odds have improved.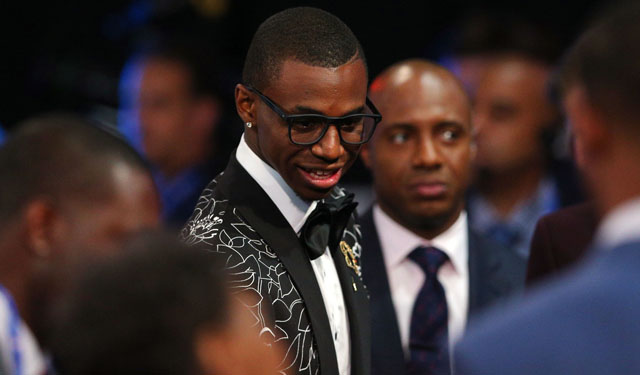 With the completion of the Kevin Love trade to the Cleveland Cavaliers finalized, Bovada put out some NBA odds. Nothing has changed in terms of the Cavs' odds of winning the title since we found out Love was on the move. Their odds of winning the 2015 NBA title are 5/2, the best in the league and just ahead of the current champion San Antonio Spurs at 4/1. Cleveland is the favorite at 4/5 to win the Eastern Conference, significantly ahead of the Chicago Bulls at 9/4 odds. 
The big change though was in the Rookie of the Year odds. With Andrew Wiggins no longer the apprentice to LeBron James in Cleveland, the Minnesota Timberwolves' rookie went from 6/1 odds for winning the 2015 Rookie of the Year award to 4/1 odds. Only Jabari Parker of the Milwaukee Bucks at 3/1 is a bigger favorite to win the award. Nerlens Noel of the Philadelphia 76ers has 6/1 odds, Julius Randle of the Los Angeles Lakers has 7/1 odds, and Doug McDermott of the Bulls has the fifth best odds at 12/1. 
Here are the full title and Rookie of the Year odds from Bovada: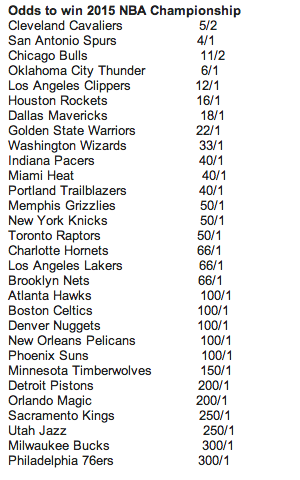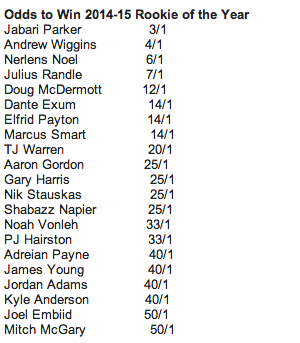 Tensions between refs and players have been high this season, so it was time for a sit-dow...

Irving is known for his controversial flat-Earth comments

George will be an unrestricted free agent in the summer
Durant said playing good basketball is more important than ending up with the best record

Follow along with all the news, notes and highlights from All-Star Saturday night

The 13 finalists will find out if they have been selected on March 31