Cavaliers win the lottery, now what?
A look at the options for Cleveland including Joel Embiid or Andrew Wiggins with the No.1 pick... or trading for Kevin Love.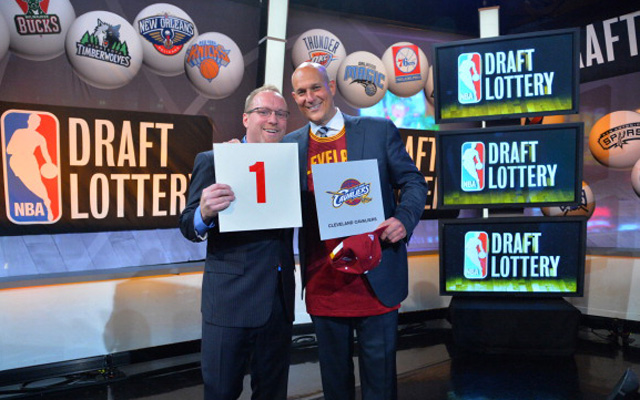 So the Cavaliers won the lottery. Again. Cleveland snagged the No. 1 pick in the 2014 Draft Tuesday night, and will pick No. 1 for the second consecutive year, provided they don't trade the year. The Cavs landed Kyrie Irving with the No. 1 pick in 2011, Anthony Bennett in 2013, and now have another crack at a top selection.
So who should they go with?
The choices are great, but fraught with complications. That's the trick with Cleveland. They're not a blank slate. They have egos to satiate, structure to build, no coach, a new general manager, and an impatient owner. There's a lot to balance here. It's a good problem to have, but it's not a slam dunk, not with the talent at the top.
There's widespread thought that Cleveland could take Joel Embiid. He could be a dominant big man, they could trade Anderson Varejao for assets, and he may be too talented to pass up. But for a franchise as snakebit as Cleveland, is taking Embiid with his back issues a sound strategy? He provides a figurative and literal center to the offense, but it's not without its risks. Embiid needs substantial development ... which isn't exactly what the Cavs have excelled at over the years.
Wiggins is another optimal choice. A lightning fast transition player that could get up and down the floor with Irving. The big knock on Wiggins is his aggressiveness, but with Irving and Waiters, he won't have to be aggressive and can take his time developing his role. But then, that's the other issue. Do you want to draft the No. 1 pick to not have a high role in the offense, considering he'd be scrambling for touches with Irving and Waiters? Wiggins also projects as a potential small forward, and that could cause conflict with Waiters' role.
Jabari Parker is the other name who's discussed. Parker is the most NBA-ready option for Cleveland, but he complicates their team setup and given his defensive issues, probably would face the most scrutiny. Small forward has been a need and Parker can conceivably play power forward in small-ball lineups with Varejao or Tristan Thompson, letting the Cavs trade the other one. Yet he's the "win now" prospect.
It's the Cavaliers, so of course, even after GM Chris Grant was dismissed this season, there's a chance they do something nuts. They went with Waiters over better options in 2012, and they went with Anthony Bennett over Victor Oladipo last year. (Note: It's too early to bury Anthony Bennett's career. Give the kid some time to get past his health issues, which aren't chronic.) They could get crazy if Julius Randle or Dante Exum blows them away in workouts. Anything's on the board. Even with a new GM in David Griffin, anything is possible.
And then there are... more extreme options.
Griffin says #Cavs will be open-minded with pick, wouldn't rule out trading it.

— M.S. Boyer/J. Valade (@PDcavsinsider) May 21, 2014
Trading the No. 1 overall pick for Kevin Love who is looking for a winning atmosphere and a bigger market would be suicide. It would be gambling that you can convince him to stay in a year, through whatever other moves you make. It would be short-sighted, desperate, and potentially catastrophic. It would also be very Cleveland.
Trying to package the No. 1 pick to Minnesota for Kevin Love, then trying to re-sign LeBron James in free agency is another plan that you can see the Cavs trying. And if it works out, it would be one of the greatest coups in NBA history, right up there with what Pat Riley pulled off when he convinced James to leave the Cavs in the first place. James is friends with Irving and Thompson, and has long admired Kevin Love's game. It gives him an extended window. I know this sounds crazy, but if you're the "win now now now now" Cavs, this has to be part of their thought process.
It's extremely unlikely, however, and the risk probably isn't worth it. If you don't convince James in free agency, you have one year to talk Love into staying, and if you fail, you've wasted the No. 1 pick for nothing.
But if you're owner Dan Gilbert, who has always gone for the home run ball? Why not go big or go home?
Conversely, whether it's Irving-Wiggins-Waiters-Thompson-Varejao, or Irving-Waiters-Deng/whoever-Thompson-Embiid, the Cavs could have a promising young core, and that's before we factor in the possibility of Anthony Bennett becoming something.
The Cavs have a lot to figure out. But unwrapping who to take with the No. 1 pick in the best draft in the last few years is far from a bad problem. The Cavs have had No. 1 picks before. Can they cash in on this one to return to the playoffs?
The NBA broke its silence with a statement related to the Lakers-Paul George tampering cha...

The Clippers big man thinks LeBron will reunite with the banana boat crew at some point

Have the Clippers reportedly found their next GM?
The NBA stayed to the point in their response to the Greek basketball federation

The Pacers believe the Lakers tampered with Paul George before they traded him

Among the questionable decisions by Jackson was signing Noah to a long-term, lucrative dea...