Cavs agree to two-year deal with Andrew Bynum
Andrew Bynum is taking his talents -- and knees -- to Cleveland on a two-year deal.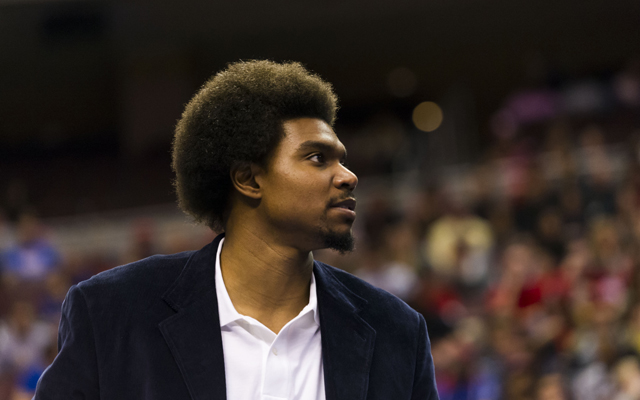 After sitting out all of last season because of his troublesome knees, Andrew Bynum has finally found a new home.
According to Ken Berger of CBSSports.com, Bynum has agreed to a two-year deal with the Cavaliers worth $24.5 million. The second year is a team option, and only half of the first season's $12 million is guaranteed.
Bynum, who was the key piece for the 76ers in the four-team Dwight Howard trade last summer, missed all of the 2012-13 season because of knee issues. Bynum has undergone multiple surgeries and treatments on both of his knees, and with him sitting all of last season there's obviously concern and trepidation about his long-term viability. 
When healthy, though, Bynum remains one of the most dominant big men in the league. At 26 years old, he's still young and still extremely talented. However, last season he aggravated his knee bowling -- yes, seriously -- and that sort of thing also has backed teams off. There are legitimate questions league-wide about not only Bynum's health, but his motivation and drive. 
The Cavaliers can take the chance, however, because of the youth of the team and iffy interior depth. With Anderson Varejao on an expiring contract and coming off an injury himself, Bynum could evolve into the Cavs long-term solution inside to go with young players Tristan Thompson and No. 1 overall pick Anthony Bennett. 
There was a lot of intrigue as to what kind of deal Bynum would garner, and two years, $24.5 million sounds about right. Especially with the second season being a team option and only about a quarter of it guaranteed. The Cavs are making a mostly low-risk, potentially high-reward move. They have the cap space and the need. It makes sense. 
Bynum also drew interest from the Hawks and Mavericks, according to Ken Berger of CBSSports.com. 
In his last season of action, 2011-12, Bynum averaged 18.7 points and 11.8 rebounds playing for the Lakers.
Is this rock bottom for the Cavaliers because it sure feels like it is

Wade, as he's done so many times in his career, threw it up to LeBron for the thunderous f...

The Warriors coach added there should be no shame in being picked last since everyone's an...
We've got all the scores, highlights and news from all of Saturday's games

The two teams have reportedly not had any substantial discussions to this point

Oladipo may be getting most of the shine, but this second-year big man has been phenomenal...