Cavs' Anderson Varejao: 'A lot of people' said he should ask for trade
Before LeBron James decided to come back, Anderson Varejao was a weird fit in Cleveland, but the big man never wanted to leave.
• 1 min read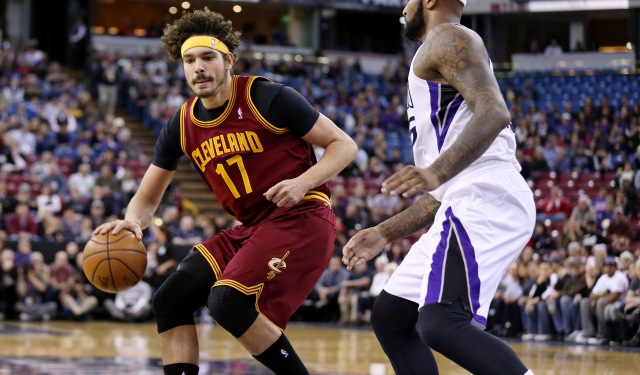 Cleveland Cavaliers big man Anderson Varejao has been mentioned as a possible trade chip for the past few seasons, and with good reason. Cleveland was always in the lottery, and Varejao was in his late 20s and early 30s. The Cavs never moved him, though, whether it was because they wanted him in the locker room or his injuries stopped other teams from making good offers. He's been with the team for his entire 10-year career, and he told HoopsHype that he never wanted to leave:
All these years there were a lot of people on my ear telling me that I should ask for a trade because LeBron wasn't there and the team was in a rebuilding process. They told me I should leave, that I should go to another team and try to help win a title and I always said no, I won't. I don't need to leave. I like the city, I like the people here, and I'm going to keep fighting through this. And now that LeBron is back the people is telling me I did the right thing [laughs]. 
Varejao went on to say that he wants to retire in Cleveland, and that he thinks the team has a "good chance" to win a championship this season. It's really an incredible situation for him -- with LeBron James, Kevin Love and Kyrie Irving around, he'll be an excellent complementary player on offense. Varejao is going to be asked to do a lot on defense, and the Cavs need to get him a bit of help on the inside, but it will be nothing like the past four years. 
It's rare that a player stays with one franchise for as long as Varejao has, going to the NBA Finals and witnessing the team win the lottery multiple times. He could have easily asked Cleveland to try to find a suitable trade, and you could've hardly blamed him. He decided to stick it out, though, and now he's been rewarded more than anyone thought possible. 
We've got all the scores, highlights and news from all of Sunday's games

The Rockets beat the Warriors 116-108 on Saturday night

The Cavaliers gave up 148 points in their loss Saturday afternoon to the Thunder
Blatt made the comment before coaching in the All-Star Game in Turkey

Is this rock bottom for the Cavaliers because it sure feels like it is

Wade, as he's done so many times in his career, threw it up to LeBron for the thunderous f...