Cavs' Dion Waiters: 'I want to start and I believe that I should'
Cleveland guard Dion Waiters deleted his controversial tweet, but didn't exactly back down from it.
• 1 min read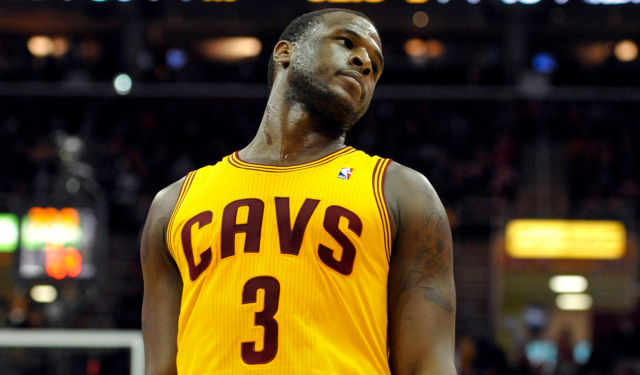 Offseason: Free Agency | Latest from Ken Berger | Rumors
Shortly after LeBron James announced he was returning to the Cleveland Cavaliers, guard Dion Waiters tweeted, "Nooooooooo" to a fan who asked if he would not accept a bench role. On Monday, at Day 1 of Team USA's training camp -- Waiters is on the select team -- he did not back off that stance, despite deleting the tweet, via Chris Haynes of CSNNW.com.
"I want to start and I believe that I should at the two," Waiters told CSNNW.com.

Never one to mince words, Waiters elaborated on why he felt it was necessary to let his feelings become known via Twitter.

"I just say how I feel," he said. "I'm going to do whatever is best for the team, of course, but at the end of the day, I'm a man and I'm confident in myself. I've always been a guy that gives it right to you. I've never been a guy that plays that political stuff. I was brought up that way. I'm straightforward. I give my honest opinion. I'm not going to sit here and hide. They asked a question and I tell you."
It's great that Waiters is honest and confident, and there's nothing wrong with him wanting a starting spot. If the Cavs roster remains as is, though, the reality is that he'd make a lot of sense as a reserve. With Kyrie Irving and LeBron James on the court together, Cleveland doesn't necessarily need Waiters' playmaking and penetration in the starting lineup. No. 1 pick Andrew Wiggins' defensive versatility could be a better fit, and Waiters would be able to do serious damage against backups. 
What matters here is not necessarily whether or not Waiters is saying the "right" things -- he isn't -- but whether or not he'd buy in if it came to it. If Cavs head coach David Blatt thinks bringing Waiters off the bench is the best way to win, and the strategy proves successful, he'll have to deal with it. That's something we can talk about once the preseason starts. And given that the whole world seems to think Wiggins is headed to the Minnesota Timberwolves in exchange for Kevin Love, this might all be moot anyway.
Trevor Ariza and Gerald Green are reportedly both suspended two games

We've got all the scores, highlights and news from the night's games

Jonah Keri talks with NFL and NBA broadcaster Ian Eagle
SportsLine simulated Wednesday's Nuggets-Clippers game 10,000 times

Galin Dragiev has his finger on the pulse of the Lakers and just locked in a play for Wedn...

No more McNuggets allowed in the Barnes household