Cavs' Dion Waiters looking to study Wade on how to play with LeBron
Cleveland Cavaliers' guard Dion Waiters knows he has to change his game with LeBron James there, and is planning on studying Dwyane Wade.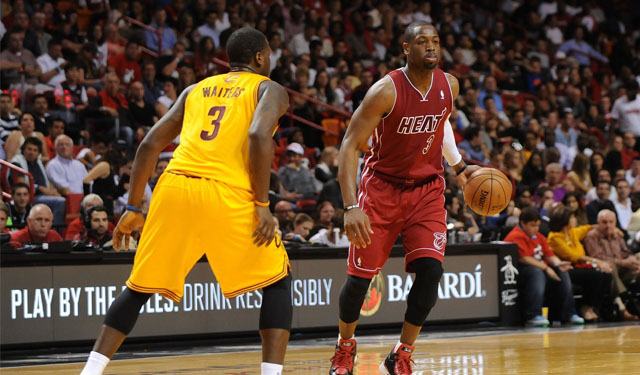 More Offseason Analysis: Coaching changes, news | Free Agency | Draft
No. 4 pick in the 2012 draft Dion Waiters has been a decent offensive weapon during his first two seasons in the league. He's a very streaky shooter who likes to be aggressive while dominating the ball. It's a style of play that is fine for a young guy learning his way in the league, but with the Cleveland Cavaliers bringing LeBron James aboard, he'll have to refine the way he attacks on the court. He won't be afforded the same usage rate and amount of dribbles in a possession he's used to.
Brian Windhorst of ESPN.com tells us Waiters is planning on changing his game to be better suited to run alongside James and Kyrie Irving. He's going to study the way Miami Heat guard Dwyane Wade played with LeBron and try to pick up tricks for playing off the ball and figuring out how to be more involved on offense without the ball.
"I have to make adjustments," Waiters said. "I like to have the ball, and we have Kyrie, and he likes to have the ball. So I have to find ways to impact the game without having the ball. I'm planning to go watch tape to see what D-Wade did when he played with LeBron. I need to learn how to be effective out there with him."

Wade and Waiters have similar styles of games; neither is a strong outside shooter who would excel waiting on the perimeter for James to deliver a pass. It took Wade awhile, but he learned to be highly effective cutting off the ball and finding space playing alongside James. Heat coach Erik Spoelstra also constructed effective rotations where Wade played frequently without James on the floor.

"[Wade] is a ball-dominant guard, too, and when LeBron came over, he had to change his game, too," Waiters said. "He was so efficient, though, and that really helped their game. I think I can learn a lot from what he did."
Waiters averaged 15.9 points in his second season in the NBA but needed 14.2 shots to get those points. He made 43.3 percent of his shots and 36.8 percent of his 3-pointers. It's hard to trust that 3-point percentage because he made just 31.0 percent of downtown attempts his rookie season, so it's hard to know which shooter to expect moving forward. But next to LeBron, he'll be able to spot up for better shots from outside, which gives him a good chance of taking better shots with a higher accuracy in those situations. 
Even compared to the 2013-14 version of Wade in which his reputation fell from being a top 10 player in the NBA to a long-term detriment to the Heat's plan, he still averaged 19.0 points and made 54.5 percent of his shots. He was a horrendous 3-point shooter at 28.1 percent, but he only took 32 attempts in 54 games. Waiters took 250 attempts from downtown last season. Learning to play off the ball, cut to the basket at the appropriate time in David Blatt's offense, and know when LeBron is looking at him to connect on a play could turn him into a very dangerous third option. If the Cavaliers trade for Kevin Love, having Waiters as a patient, explosive fourth option would be even better.
Westbrook's late layup gave the Thunder a 109-108 victory

LeBron became the seventh player in league history to reach the milestone

There were a few things that stood out from Tuesday's All-Star selections
Here are three players from each conference who had legitimate claims to make the game

LeBron achieved the milestone in the first quarter Tuesday

Here are the full lineups for the 2018 NBA All-Star Game