Cavs' GM David Griffin receiving a lot of calls about No. 1 pick
Cleveland Cavaliers' general manager David Griffin is receiving a lot of calls about the top pick in the draft after the Cavs won it for the second straight year.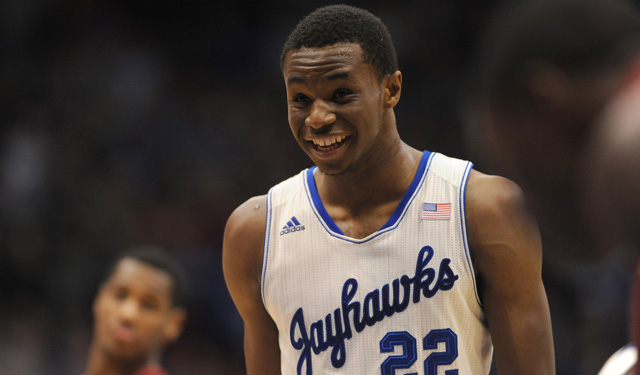 More postseason coverage: Playoff schedule, results | Latest news, notes
The Cleveland Cavaliers had just a 1.7 percent chance of landing the top pick in the 2014 NBA Draft and somehow pulled it off. It was the second straight season they've been awarded the top pick by ping pong balls, third time in four years they've had the top pick in the draft, and the fourth time in 11 years as well. All this team knows how to do is get the top pick in the NBA Draft. 
Cavs' new general manager David Griffin immediately started receiving phone calls about the top pick in the draft when it was announced. Griffin was still doing the media portion of the night when his phone started blowing up with other team executives wondering just how intent he was on keeping that pick. From ESPN.com:
David Griffin's phone started buzzing immediately after the Cleveland Cavaliers won the NBA draft lottery Tuesday night.

And the calls weren't all to offer congratulations.

The Cavaliers' general manager says teams throughout the league already were contacting him about potential trades for the No. 1 pick, something he'll think long and hard about leading into the June 26 draft.

"I actually got calls right afterward, while I was standing there doing media," Griffin said Wednesday during an interview on ESPN Cleveland's "The Really Big Show." "Teams were already reaching out and texting, so I think it will be an active period of time."
Some teams could be targeting Andrew Wiggins out of Kansas, his teammate Joel Embiid, or maybe even Jabari Parker out of Duke. Regardless, there are plenty of potential stars to be had at the top of this draft and with so many teams looking to move veterans for youth or assets to move up in the draft to find their next star, the Cavaliers should have plenty of offers to sift through over the next month or so. Cleveland is intent on making the playoffs next season and moving the pick for a big time veteran could be the trick in turning this organization in the right direction.
Oklahoma City has reportedly offered the MVP a five-year extension worth over $200 million

The big man was a big part of the Warriors' championship run last season

The Cavs jokes were out in full force after Golden State reportedly agreed to sign Antonius...
New York seems to be at the top of Irving's list of preferred destinations

Is it just a normal workout, or is LeBron continuing his recruiting efforts?

Chris Bosh answered on the spot about the LeBron James and Kyrie Irving situation