Cavs GM David Griffin: 'We're going to need to add' rim protection
Cleveland general manager David Griffin is optimistic about Kevin Love's defense, but still wants to add a rim protector.
• 2 min read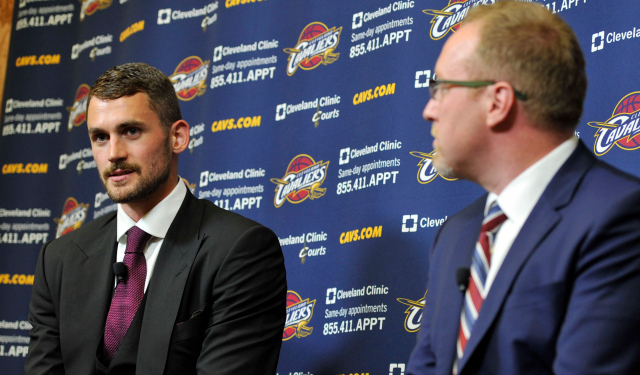 Since it became apparent that the Cleveland Cavaliers had a shot of signing LeBron James, there has been talk about their rim protection. Cleveland's only real presence around the basket on defense is Anderson Varejao, and he's had recurring injury issues for years. Adding Kevin Love, who is not a shot blocker and has a poor defensive reputation, definitely did not make that discussion go away. 
Cavs general manager David Griffin discussed the issue with Jay Mohr on Fox Sports Radio on Thursday, and sounded optimistic about Love's abilities on defense.
Are there any concerns for you with Kevin Love's defense?

I think he's an elite defensive rebounder. I have concerns relative to our ability to protect the rim, and that's not just a Kevin question. We're going to need to add that. But I don't have any concerns about Kevin's ability to be in the right place at the right time from a team defensive perspective. His basketball IQ's fantastic. And I think he's been really open about the fact that he's bringing a focus to that end of the floor that maybe he didn't do before.
That's a pretty fair assessment. Love's underrated on that end of the floor because he's improved his effort level and people sometimes view defensive rebounding as a separate thing. Cleveland will probably be able to get away with him playing center for stretches, just like Team USA did. 
Serge Ibaka. Neither is Tristan Thompson. This means Griffin's biggest challenge is finding somebody to do that, and he's being open about that fact here.
Ekpe Udoh is probably the best option available. He's been lost in the shuffle a bit on a Milwaukee team loaded in the frontcourt, but he's an intelligent defender with an ability to block shots. Emeka Okafor, if healthy, could also be a fantastic addition, but he's coming off a serious injury and no one knows how much he'll be able to contribute this year. If neither of these guys fits the bill for Griffin, he'll likely have to be patient or try to pull off a trade.
(HT: PBT)
We've got all the scores, highlights and news for Thursday night

The Sixers big man got his first All-Star selection -- and maybe some revenge -- on Thursd...

It appears some players are not entirely taking the All-Star voting process seriously
There were some weird discrepancies between the fan, media and player votes

LeBron and Steph will be the captains for the 2018 NBA All-Star Game

Arron Afflalo was involved in an altercation with Timberwolves big man Nemanja Bjelica on...