Cavs have agreement with Wolves to trade for Kevin Love
The Cleveland Cavaliers have agreed to a deal with the Minnesota Timberwolves to trade Andrew Wiggins, Anthony Bennett and a pick for Kevin Love.
More Offseason Analysis: Coaching changes, news | Free Agency | Draft
The Summer of Love might be over soon. CBSSports.com's Ken Berger has confirmed reports the Minnesota Timberwolves have reached an agreement with the Cleveland Cavaliers to send Kevin Love to Cleveland in exchange for Andrew Wiggins, Anthony Bennett and a protected 2015 first round pick.
Adrian Wojnarowski of Yahoo Sports was first to report the deal and has also included a report Love will opt out in 2015 and re-sign with the Cavs on a five-year, $120-plus million deal. From Ken Berger:
The Timberwolves have agreed to send Kevin Love to the Cavaliers in a blockbuster deal that immediately boosted LeBron James' chances of delivering a championship to Cleveland, three league sources confirmed to CBSSports.com on Thursday.

But due to an NBA rule against trading draft picks until 30 days after they've signed their rookie contracts, the agreement is not binding until Aug. 23 -- opening a two-week window with the potential for more twists and turns in a saga that has dragged on for weeks.
Berger adds that a team like the Golden State Warriors could try to swoop in during this two-week window, finally offer up Klay Thompson in a package, and convince Flip Saunders this is a better deal for the Wolves.
If this trade between Cleveland and Minnesota goes down as we see it now, it is huge for both franchises. Newly signed Cavalier LeBron James gets one of the 10-12 best players in the NBA next to him for the next six seasons, and the Wolves get to jump start their rebuilding process with the No. 1 pick in one of the most anticipated drafts in years. Wiggins immediately gives the fan base something to be excited for, even after trading away a franchise player. 
The Cavaliers and Wolves can't make this trade until August 23 because Wiggins can't be traded until a full month after signing his rookie contract.
For Cleveland, they should become the frontrunners in the Eastern Conference with the Chicago Bulls nipping at their heels, assuming Derrick Rose is healthy. The Cavaliers will have to fill out the roster and figure out some defensive role players to plug in. They also need Anderson Varejao to be healthy this season. But they have a brilliant core of LeBron, Love, Kyrie Irving, Tristan Thompson, and Dion Waiters moving forward.
The Wolves start their rebuilding plan with the previous two No. 1 picks in Wiggins and Bennett. The protected 2015 pick could be the pick Miami owes the Cavaliers (top 10 protected), the pick the Grizzlies owe the Cavs (top 5 and 15-30 protected), or the pick the Cavs owe the Bulls (top 10 protected and Chicago can swap picks with Cleveland). The Wolves have a core of Ricky Rubio, Wiggins, Zach LaVine (No. 13 pick), Gorgui Dieng, Shabazz Muhammad, and Nikola Pekovic.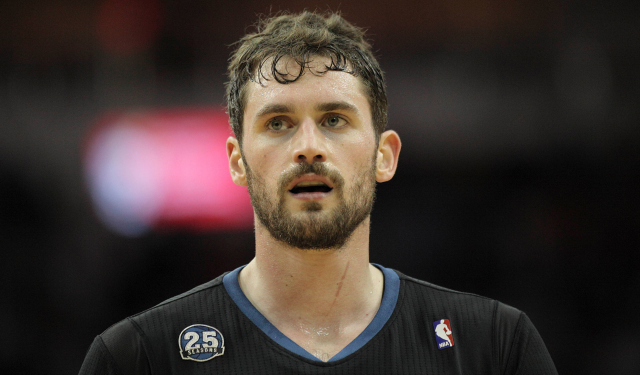 Giannis skipped EuroBasket last summer, and has missed four games this season with knee so...

Some of the best and worst from the league as we head into the home stretch of the season

Cuban acknowledged that tanking is 'brutal' and that he will no longer do that after this...
Cho has been the GM in Charlotte since 2011

Fergie: 'I'm a risk taker artistically, but clearly this rendition didn't strike the intended...

Victor Oladipo had a successful R&B album over the offseason and Jamie Foxx is a fan