Cavs players frustrated with Dion Waiters?
Dion Waiters isn't getting along with his teammates in Cleveland -- again -- as some have grown frustrated with him.3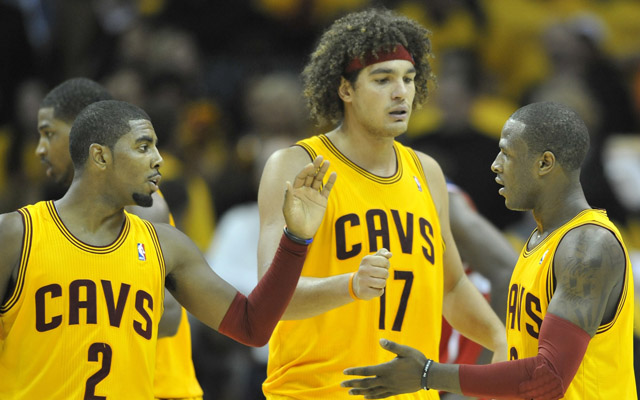 Dion Waiters' career in Cleveland has been a bit of a rollercoaster so far, with him showing brilliant scoring ability along with questionable shot selection and iffy body language. 
Because of it all, Waiters' relationship with his teammates has been somewhat rocky at times, with players-only locker room meetings going bad, and chemistry sometimes mixing poorly. 
And according to the Akron Beacon Journal, some Cavaliers players are again tired of Waiters up-and-down issues. 
Players have quietly grumbled about Waiters' act off and on all season, and those grumbles were growing louder Sunday night.

As one player put it, stars can get away with the stuff Waiters pulls on occasion, but Waiters hasn't even established himself yet in this league, let alone carved out star status.

[...]

This isn't to pile on Waiters or put all the blame on him, but his behavior was the most evident tonight and the whispers from other players growing tired of his act seem to be growing louder. Again, it's more of a frustration because overall he's not a bad guy. It would be different if he was causing major strife within the locker room. He's not. He's just drawing a lot of eye rolls.
It's a common theme in the Cavs locker room. There just doesn't seem to be a lot of good, positive vibing going on in there. With Andrew Bynum now gone, maybe that will help ease some tensions, but Waiters has a personality that doesn't seem to be meshing well. 
Waiters is still a very young, raw player that might just need more time to grow and mature. But you also don't want to offset the progression and development of your other young players because of a toxic environment. There has been talk of the Cavs cutting ties with Waiters in the past, and I'm sure some of that chatter may resurface now. 
With half of the season in the books, there were some clear favorites for our Midseason Aw...

Zack Cimini is 12-3 on picks for or against the Pistons ATS and locked in a play for Frida...

Both Washington and Detroit will try to snap losing streaks Friday night
The Hornets are reportedly looking to move their franchise point guard

We've got all the scores, highlights and news for Thursday night

The Sixers big man got his first All-Star selection -- and maybe some revenge -- on Thursd...