Celtics escape with overtime victory to even series with Heat
The Boston Celtics survived to win 93-91 in overtime against the Miami Heat in Game 4 of the Eastern Conference finals at TD Garden on Sunday night.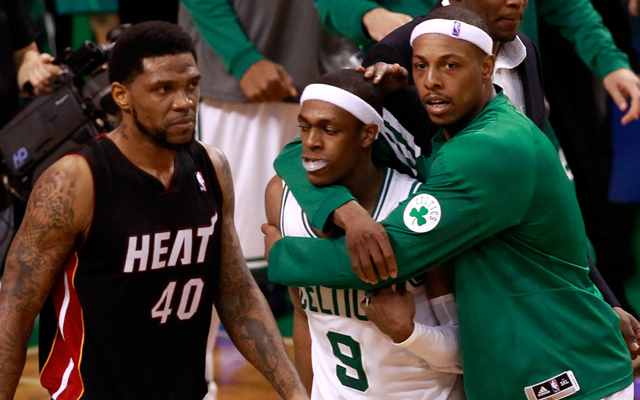 The Boston Celtics escaped with a Game 4 victory in overtime against the Miami Heat.
(Getty Images)
BOSTON -- Losing coaches spit clichés in their postgame interviews. Winning coaches do too, usually, but when an underdog finds a way to win a game it dominated, and then nearly blew, there's time for golf jokes and shout outs to franchise legends.
The Boston Celtics emerged with a 93-91 victory against the Miami Heat in Game 4 of the Eastern Conference finals at TD Garden on Sunday, a wild game that saw both the
NBA
's MVP and his All-Star opposing number foul out in overtime. The Celtics survived the collapse of an 18-point first half lead, a disastrous third quarter in which they managed only 12 points, and two potential game-winning Heat shots.
No wonder the first words out of Doc Rivers' mouth -- when asked about a
Dwyane Wade
3-pointer rimming off at the overtime buzzer -- were a gesture to the heavens and an acknowledgement of good fortune.
"Red wasn't going to let that go in, you know that," he said, referencing legendary Celtics coach and executive Red Auerbach, who passed away in 2006. "Not in the Boston Garden."
Rivers had every reason to feel like his team has a guardian angel after two great escapes. First, 
during the final play of regulation
, which saw
LeBron James
pass to
Udonis Haslem
, who launched an airball as time expired. Then, Wade's miss at the final buzzer that led to a giant exhale and then exultation.
This was Russian Roulette on the parquet floor. The Celtics just happened to get an empty chamber twice.
This game shouldn't have evolved to its final circumstances. Not that it matters much now; against the favored Heat, a win is a win. Even if Boston looked unbeatable during the first half, rolling up 61 points, and then totally fell off the rails in the second, scraping together only 28 before eking out a 4-2 advantage in overtime. 
Rivers could smile and laugh, his up and down team finishing barely up. Meanwhile, his counterpart, Heat coach Erik Spoelstra, did his best to look unflappable after another flat Heat performance, reciting his favorite words, phrases and cliches one more time.
No one said this would be easy. Triggers. Get into the pit and get your hands dirty. Grind. Gather ourselves. Get ready for the next game.
It all sounded hollow on this particular night, what with Rivers stacking up adjustment after adjustment in his favor during the past two games.
Get Garnett more heavily involved.
Check. Garnett had 17 points, 14 rebounds and 5 blocks after a 24/11 in Game 3.
Limit Wade.
Check. Wade shot 7 of 22 for 20 points after managing only 18 points and zero free-throw attempts in Game 3.
Make James work for every last point.
Check. James had 29 points but also had nearly as many turnovers (7) as free-throw attempts (8) and looked human for the first time in this series, watching the game's conclusion from the bench after being unable to generate a clean look for himself in the fourth quarter's final moments.
Find a way -- somehow -- to win the bench battle.
Check. Boston's bench again came up huge, with
Keyon Dooling
scoring 10 points and
Mickael Pietrus
and
Marquis Daniels
playing excellent minutes on defense.
Those were all things Rivers said that he wanted his team to do. Those are all things the Celtics responded by doing. The items on Spoelstra's list -- play strong team defense to protect the paint, stay in attack mode on offense, limit turnovers, play with energy -- have gone unheeded, looking at this moment like unfulfilled promises rather than completed tasks. 
Momentum shifts whenever the venue shifts, Spoelstra is counting on that, and a different roll of Wade's final shot would have told a completely different story. A Boston loss would have meant a seemingly insurmountable 3-1 series advantage for Miami and a Game 5 on Tuesday night that would likely have been the end of the Celtics' season. When you escape with your basketball life, cackling doesn't seem all that out of place.
And so it was with Rivers, who mentioned during his pregame press conference that he couldn't pull himself away from the television this afternoon as Tiger Woods hit an impossible shot on 16 on his way to a win at the Memorial.
Twice after the game, Rivers' mind drifted back to Woods as he couldn't contain a wide smile.
"I have one thing to say," Rivers cracked as he took the podium, the media throng anxious to hear how his team staved off catastrophe. "That shot Tiger Woods had today was phenomenal, wasn't it?"
Then, again later, so taken by the moment and his joke that he delivered it again while cutting off a question: "That shot Tiger made was unbelievable." 
As Sunday wrapped, two coaches promised better play from their teams. One seemed to dwell on defeat. The other allowed his mind to wander, briefly, because he could.
Nerlens Noel is now being represented by Rich Paul of Klutch Sports

Steve Kerr opens up about his back issues and more

OJ Mayo, banned from the NBA for positive drug test, is considering playing overseas
The King? 'LeBron, it turns out, is Aquaman,' or so the account via Dwyane Wade's wife goe...

From Penny to Thunder Dan to Pistol Pete to Agent Zero, guys who would be better in 2017

Griffin said recently he thinks it's more likely that LeBron James goes to New York than L...