Celtics G Ray Allen (ankle) plans to play vs. Heat
Boston Celtics guard Ray Allen plans to play in Game 2 of the Eastern Conference finals against the Miami Heat.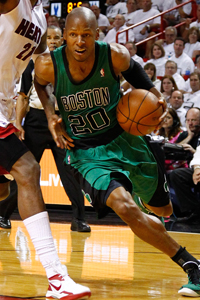 Ray Allen

says there's no way he's sitting  against the Heat. 
(Getty Images)
MIAMI -- Ray Allen got up extra shots and then shot down the idea that an ankle injury might keep him on the bench.
"Hell no," Allen said, when asked for his reaction to Boston
Celtics
coach Doc Rivers'
suggestion on Tuesday
that he might consider sitting his guard because of an onging ankle injury. "This is not the time to sit down."
The Celtics face the Miami Heat in Game 2 of the Eastern Conference finals on Wednesday night.
Allen was at AmericanAirlines Arena a half hour or more before the rest of his teammates arrived for their 10:30 a.m. shootaround. As the Celtics walked in, Rivers cracked: "I've been looking for Ray all morning! There he is."
Rivers has agonized over the proper way to handle Allen's minutes since before the series started and told reporters prior to Game 1 that he almost pulled Allen during Game 7 of the Eastern Conference semifinals against the Philadelphia 76ers. 
"You want to give Ray a chance every game," Rivers said on Wednesday. "You know he's going to do everything it requires. He's going to give himself a chance to know that. Ray is a tough, determined individual ... Ray wants to play well. He's not going to let injury or anything else be the reason why he doesn't."
The Celtics have experimented with various workout approaches in an effort to get the best results from Allen, who has struggled with his shooting stroke and isn't moving well on defense. Allen scored 6 points on 1-for-7 shooting in 38 minutes during a Game 1 loss and uncharacteristically missed four free throws.
"We don't know what the right prescription is for him. We tried it the other way, we told him, 'Don't shoot. Don't do anything.' That doesn't help him because he's a great shooter. So we told him, 'Just do your routine. If you feel great, great. If you don't, we'll do something else.' "
Allen said that the extra shooting work was needed after his Game 1 performance.
"You always try to find opportunities to get up more shots, get your legs underneath you," he said. "For me it's very important. At some point I've got to put my body through some type of rigorous shooting."
Allen, regarded as one of the greatest shooters in
NBA
history with a 40 percent career 3-point percentage, joked that the airmchair shooting coaches have come out of the woodworks in recent weeks after he shot 27.8 percent from against the Atlanta Hawks in the first round and 26.5 percent against the 76ers.  
"So many people are calling me and telling me I need to get the ball in the air more. I'm like, 'Thank you for the advice. I've only been doing this for 20 years.' "
ASM represents dozens of NBA players, including Kristaps Porzingis, Kyle Lowry and Serge I...

Barea will return with members of his family after Mark Cuban loaned him the team plane

Wade, recently bought out by the Bulls, has reportedly made his decision
Dwight Howard apparently wasn't well liked by some of his Hawks teammates

Kyrie Irving created a movement -- but even he had no way of knowing the damage he could d...

Parsons, a Magic fan growing up, says his situation in Memphis with the injuries and big contract...