Celtics Gerald Wallace: 'I'm getting fussed at by coaches every time'
Boston Celtics forward Gerald Wallace has been critical of his teammates' effort in the preseason. He says coaches are "fussing" at him over it.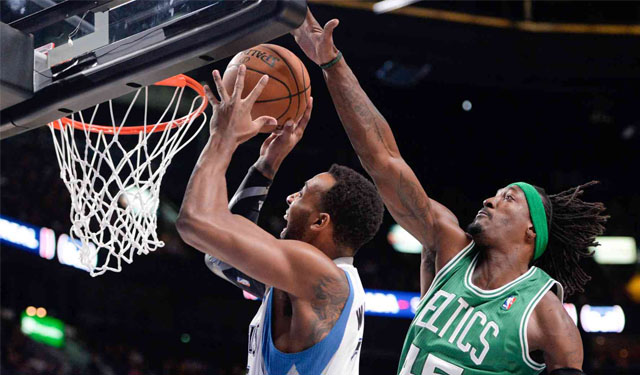 The Boston Celtics are going to have to give maximum effort all game, every game if they want to be competitive this season. After getting rid of a veteran coach in Doc Rivers and trading away Kevin Garnett and Paul Pierce to the Brooklyn Nets, the Celtics don't have the luxury of coasting with their effort and coming out on top. Gerald Wallace knows this and has been incredibly critical of the effort he sees his teammates giving (or not giving as the case may be).
Wallace hasn't held his tongue about it, but the coaching staff may want him to relax a bit. The 13-year veteran is apparently getting a little blowback from coaches because of his comments on the team's lack of effort and it doesn't seem to be sitting well with Wallace. Mark Murphy of The Boston Herald has quotes from Wallace in which he has no problem opening up about how he perceives this current situation.
"I'm getting fussed at by the coaches every time," said Wallace. "They're trying to tell me to relax and ease up. But the main thing is I want the guys to compete. If we lose all 82 games, but we lose them going down fighting and competing hard. I can live with that. I can't live with losing and we didn't compete, we didn't give our best effort and we just gave the game away. I don't want that for these guys and this team." 

"It's not critical towards my teammates. It's for the whole team. We're laid back at times. We don't put forth the effort offensively and defensively. We have to understand that we have to do things hard for 48 minutes. We don't have the luxury of being able to take a quarter off or five minutes off. We don't have that luxury. We have to continue to play and continue to buy in hard together for 48 minutes."
Wallace certainly has a point. This team will be without Rajon Rondo for the first couple months of the season at best, and even once he returns there are no guarantees this team will have enough talent and cohesion to compete in the Eastern Conference. The Celtics went about their rebuilding process in a way that could keep them a little too competitive to outright tank and really go after lottery chances. However, that's assuming the team is giving maximum effort every night.
Wallace continued on about the team's effort and whether or not his words have meant anything to his teammates:
"At the end of the day when we keep looking up at the scoreboard and we're getting our asses kicked every night, some response has to come.  Everybody can look at themselves in the mirror and do something about it. It doesn't take talent or skills. You just bring effort, the will to win, it's not that hard."
Preseason results are typically inconsequential, but the Celtics haven't looked good at all during the exhibitions. They're 1-6 in the preseason with their only victory coming in impressive fashion over the New York Knicks. The Celtics won by 30 points in that game in which Carmelo Anthony, Tyson Chandler, Raymond Felton, Beno Udrih, J.R. Smith, and Amar'e Stoudemire all skipped playing in the contest.
The majority of their losses have been relatively close. They've lost by eight, one, 12, two (twice), and 15 points. They haven't exactly been getting destroyed like Wallace says here but they also haven't looked good, despite close final scores. 
Wallace is attempting to find ways to motivate his teammates and there's nothing wrong with that right now. He doesn't want the team to lose and it can't be easy going from a playoff team like the Nets to a Celtics team that could be quite hapless for most of the season. Eventually, Wallace will either need to be dealt to a different team or he'll have to find a better message to motivate his teammates. Complaining constantly will eventually fall on deaf ears.
Veteran forward signed a one-year deal with the Knicks in offseason

Knicks forward had his truck stolen out of his driveway

The Celtics will send No. 34 to the rafters in Boston when they take on his old rival
It's never too early to look at June's NBA Draft

Cousins uses some colorful language to get his point across

The awards are voted on by peers in the NBA and adds to Russ' league MVP award he won this...