Celtics' Jared Sullinger hopes Rajon Rondo returns by December
Boston Celtics Rajon Rondo has had hopes of coming back from his ACL tear by opening night but teammate Jared Sullinger is hoping Rondo is back by December.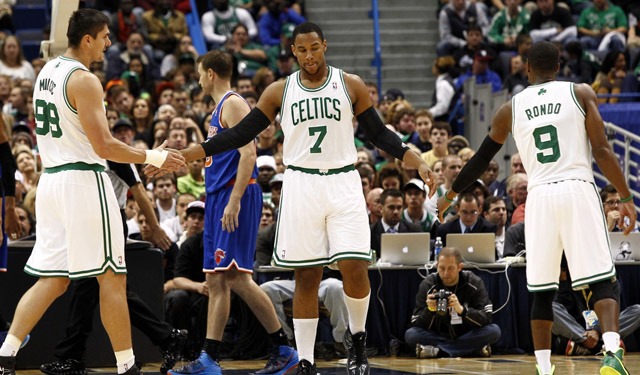 At the end of January during the 2012-13 season, the Boston Celtics received some bad news that effectively ended the Doc Rivers-Kevin Garnett-Paul Pierce era in Boston. Point guard Rajon Rondo tore his ACL and needed to undergo season-ending surgery. With the timetable for Rondo being back to full strength anywhere from nine months to 18 months, it just seemed improbable for the Celtics to responsibly weather the storm while being led by a 37-year old big man and a 35-year old wing.
After Rivers left for the Clippers and Garnett went to the Nets with Pierce this offseason, the Celtics' next step was figuring out when Rondo could come back to action. The Celtics' point guard is aiming for playing on opening night when the Celtics take on the Raptors in Toronto. However, Jared Sullinger gave a different target date for his teammate on Friday when he hoped his point guard would be back by December, one month after the 2013-14 season starts. From MassLive.com:
Boston Celtics president of basketball operations Danny Ainge has stated publicly -- several times -- that point guard Rajon Rondo wants to return from ACL surgery by training camp and play on opening night.

Yet while speaking with WSYX Columbus on Friday, teammate Jared Sullinger shared a different timetable for Boston's four-time All-Star.

"He's back working out again and hopefully he'll be back by December," said Sullinger.

Obviously we don't know how much Sullinger knows, but he has hopefully (if you're a Celtics fan looking for locker room camaraderie) stayed in contact with his longest-tenured teammate.
Of players that recently tore their ACLs, Iman Shumpert was the quickest recovery at 264 days from the day of his torn ACL. Ricky Rubio was back playing 281 days after he tore his ACL. Assuming Derrick Rose returns to the Chicago Bulls for their opening night showdown with the Miami Heat to kick off the 2013-14 NBA season, he will have missed 549 days, although that includes two summers.
Rondo returning on opening night against the Raptors would put him out for 275 days, which seems in line with the return time for both Shumpert and Rubio. Granted, just because two players tore their ACLs doesn't mean they have to get back in the same amount of time or come back thanks to the same training regimen. But it gives us a decent timetable on possible return. 
The Dubs will make a decision as a team on visiting the White House, but Steph would vote...

Wolves are an up-and-coming NBA squad, but this region knows heartache too well

The Bucks will be the sixth team since 2011 for the 31-year-old Green
Green helped KD through the tricky situation but not without enjoying his teammate's blund...

Vonleh reportedly suffered a shoulder strain during a pick-up game at the team's facility

OKC and Westbrook have until October 16 to agree to the deal