Celtics' Jared Sullinger released on bail for assault and battery charges
Celtics forward charged with assault and battery, intimidating a witness, and malicious destruction of property, pleads not guilty in Boston court.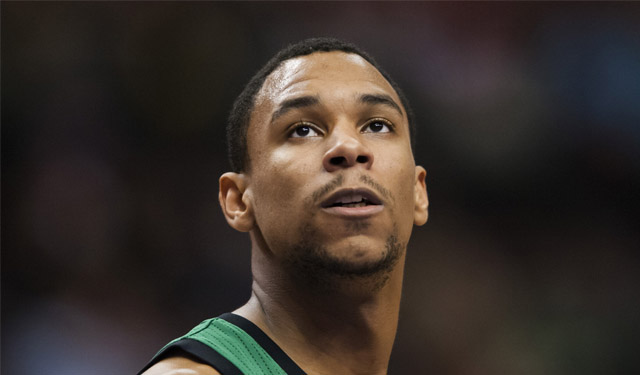 Update 4:20 p.m.: Sullinger released a statement this afternoon: 
"I voluntarily reported to the Waltham police this morning to respond to charges against me. The experience was humbling and embarrassing for me. Yet I know that this situation has brought both sorrow and embarrassment to my girlfriend, my family, the Boston Celtics organization, my teammates, and my fans. To all of you, I apologize from the bottom of my heart.

"My lawyers have advised me not to discuss the case at this time. But I wanted to immediately and publicly apologize to everyone affected by this situation."
And the Celtics followed up with a statement of their own. 
"The Celtics were disappointed to learn of the allegations against Jared and are currently gathering more information on the situation, which we are taking very seriously. We will reserve further comment until such point that we have sufficient additional information."
Update 12 p.m.: The Boston Globe reports Sullinger was released on $5,000 bail, has been ordered to stay away from the victim, but can contact her by phone or with another person present, and will have to return to court on September 19th. The Celtics hold their media day for the 2013-2014 season just eight days later on September 27th.
Update 11:33 a.m.: The Boston Globe reports from Sullinger's court appearance where he plead not-guilty on the details of the incident leading to the arrest. 
Celtic Jared #Sullinger pinned girlfriend to bed, pushed her and snatched her phone when she tried to call police, state charges.

— David Abel (@davabel) September 3, 2013
Victim of Celtic Jared #Sullinger claimed to have red marks on her chest. Victim will speak in court now.

— David Abel (@davabel) September 3, 2013
From MassLive.com:
Victim has claimed a history of abuse. Over the course of the past year, she alleges he became more angry. Hadn't hit her before, but pushed

— Jay King (@ByJayKing) September 3, 2013
From WCVB:
Jared Sullinger has entered not guilty plea. Discussion now whether judge can order anger management per commonwealth request

— Jack Harper (@JackWCVB) September 3, 2013
---
Fox Sports 25 in Boston confirmed with police that Celtics forward Jared Sullinger turned himself in Tuesday on charges filed following a domestic dispute Saturday night. 
Police said Sullinger arrived at the police station 6 a.m. Tuesday to turn himself in. Sullinger is charged with assault and battery, malicious destruction of property and witness intimidation.

According to police, the incident happened early Saturday evening.

Sullinger, who averaged 6 points and almost 6 rebounds per game in 45 games as a rookie last season, is scheduled to be arraigned Tuesday in Waltham District Court.
via Celtics Sullinger arrested following domestic situation - Boston News, Weather, Sports | FOX 25 | MyFoxBoston.
Sullinger, 21, had back surgery in January after questions regarding the condition caused his stock to plummet in the 2012 draft all the way to the Celtics at No. 21. He had a productive season and was seen as a bright spot prior to the injury. 
HT: WEEI via The Big Lead
The NBA broke its silence with a statement related to the Lakers-Paul George tampering cha...

The Clippers big man thinks LeBron will reunite with the banana boat crew at some point

Have the Clippers reportedly found their next GM?
The NBA stayed to the point in their response to the Greek basketball federation

The Pacers believe the Lakers tampered with Paul George before they traded him

Among the questionable decisions by Jackson was signing Noah to a long-term, lucrative dea...