Celtics' Kevin Garnett agrees to deal sending him, Paul Pierce to Nets
Kevin Garnett has agreed to waive his no-trade clause to send him and Paul Pierce from the Boston Celtics to the Brooklyn Nets in mega deal.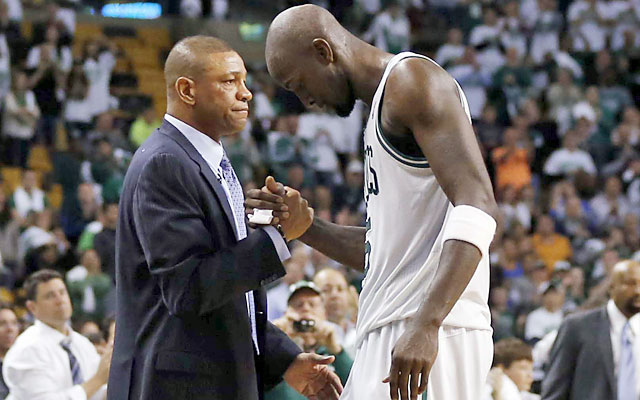 The reported deal between the Boston Celtics and Brooklyn Nets that would send Kevin Garnett and Paul Pierce from the Celtics to the Nets has been agreed to by both teams and Kevin Garnett, according to CBSSports.com's Ken Berger. The trade is believed to be Garnett, Pierce, and Jason Terry to the Nets in exchange for Gerald Wallace, Kris Humphries, Reggie Evans, sign-and-trade Keith Bogans, and three first round picks.
League source confirms Kevin Garnett has agreed to waive his no-trade clause, green-lighting deal that will send KG and Paul Pierce to Nets.

— Ken Berger (@KBergCBS) June 28, 2013
Garnett, Pierce and Jason Terry go to the Nets in the deal, and Gerald Wallace also goes to Boston. Deal will be finalized next month.

— Ken Berger (@KBergCBS) June 28, 2013
The deal cannot officially be finalized until July 10 when the free agency moratorium is over.
This jumpstarts the Celtics' rebuilding process by getting rid of Paul Pierce in the final year of his contract, the remaining two years of Kevin Garnett's contract, and the two years left for Jason Terry. However, they are taking three more years in Gerald Wallace's deal. The three first-round picks would reportedly be in 2014, 2016 and 2018. 
The Celtics are now left with the decision of moving Rajon Rondo or building around him. They're still in search of a coach as well with Doc Rivers being moved to the Los Angeles Clippers for a 2015 first round pick this past week.
Wade's days with the Chicago Bulls appear to be numbered

Misty Suri will reportedly keep his job with the New Orleans Pelicans

The MVP has better things to do with his time, but the former NFL receiver isn't taking 'no'...
Randolph was arrested last week in Los Angeles on felony marijuana charges

Bagley wants to be in the 2018 NBA Draft and should be the No. 1 overall pick

Durant helped build the court in Manhattan as part of his community outreach program