Celtics-Knicks Game 3 Preview: A tale of two halves
With the Boston Celtics down 0-2 in their series against the New York Knicks, they have to play a complete game to win Game 3.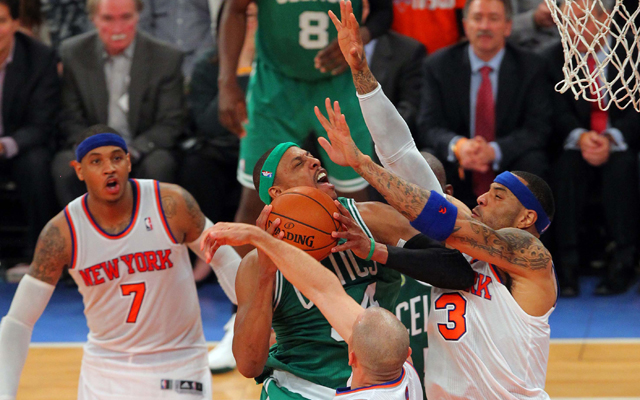 Previewing Game 3 of the Knicks-Celtics first-round series.
1. Where we're at: The New York Knicks are up 2-0 on the Boston Celtics, and it's not looking good for the guys in green. The Knicks seem to have too much firepower for Boston in this series, but the hope is that the Celtics will change their anemic scoring ways at home. They fell flat on their faces in the second half of each game after showing they can compete in the first half. Now the Celtics have to find a way to put together a full 48 minutes at home. It's on Doc Rivers and the players to figure out how to find playmaking within their roster.
2. The big number: 14. The Celtics managed just 14 assists in Game 2 -- a number Rajon Rondo used to consistently flirt with on a nightly basis. A big part of that was the fact that they didn't make many shots in the second half of Game 2, but they have to get more creative with what they're running. We used to see post-entry passes to Kevin Garnett and cutters flying through the lanes for him to pass to. We used to see Paul Pierce driving to set up a step-back, elbow jumper and Avery Bradley might cut back door for a layup. As of right now, Boston has become too basic with its schemes, and if the pick-and-roll/pop doesn't work, it's a bad, contested jumper on the way.
3. Key adjustment: Make more than a few shots in the second half. Celtics haven't been able to crack seven made shots in the second half of each of the first two games against the Knicks. Part of the reason might be that we don't really see them moving with a purpose when their players are in motion. They don't want to play a quick pace anyway, but it doesn't mean they loaf through their cuts and coming off screens like we've seen them do. When the Knicks have Jason Kidd, Raymond Felton and Pablo Prigioni in the game, Boston has to utilize the athletic advantage they have with guys like Jeff Green and Avery Bradley to get into the teeth of the defense and knock those teeth loose.
4. The big story: Are the New York Knicks ready to establish themselves as contenders? This isn't a must-win game by any means for the Knicks. They're up 2-0 and have home- court advantage at their disposal. But if you look at what the Miami Heat did to Milwaukee in Game 3, and what people assume Oklahoma City and San Antonio will do in the next game, contenders are expected to take a team down in Game 3 to establish that the series is theirs and theirs only. Are the Knicks going to be able to do that in Boston? It will be a hostile environment and they should be able to get the Celtics' best effort to try to keep the series within reach. Are the Knicks cold-blooded enough to end those hopes?
5. The facts: 8 p.m. EDT start time. Both teams should be at full strength.
Stephen Curry, who grew up in North Carolina, wants to be part of the next Panthers ownership...

Vince Carter is destined for a Raptors reunion; he doesn't know when it'll happen

Thomas has a target date for his return, and with the Cavaliers scorching, this could be h...
LeBron James once again is using his platform to be socially active

Not many games, but still plenty of action and intrigue Sunday in the Association

Kobe Bryant had a solid piece of advice for back in 2016 when he left OKC for Golden State