Celtics open to discussing trades for Paul Pierce
It wouldn't be a true Boston Celtics basketball season without trade chatter circulating around one of their core pieces, now would it?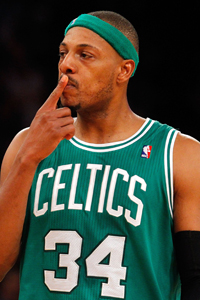 Trade ... me?
(Getty Images)
It wouldn't be a true Boston Celtics basketball season without trade chatter circulating around one of their core pieces, would it?
General manager Danny Ainge has been toying with the idea of cutting the cords on the Boston Big Three era for a while now, but according to Ken Berger of CBSSports.com, the Celtics might revisit the idea again this trade deadline -- or if not, then following the season.
Team executives involved in exploratory trade talks report that the Knicks (Amar'e Stoudemire), Lakers (Pau Gasol), Raptors (Bargnani) and Celtics (Paul Pierce ) are open to discussing their high-profile names. In every case but one, the early indications are that none could be moved without a bad contract going back in return. (In Stoudemire's case, his health and the $45 million left on his contract after this season almost certainly will prevent any deal from happening.)

The lone exception, executives say, may be Pierce, whose ruthless scoring prowess and championship experience come with another attractive feature: only $4 million of his $15.3 million salary is guaranteed next season.

With the Celtics playing better since Avery Bradley returned from injury, president Danny Ainge once again finds himself trying to determine whether the remnants of the 2007-08 championship team have enough to make one more run.

Some rival executives believe the Celtics recently waived Jarvis Varnado and Kris Joseph to create roster flexibility for a potential trade. If Ainge decides to stand pat, a deal involving Pierce -- which would mark the true end of the Big Three era -- could be re-examined around the draft or during free agency.
Pierce's name in that bunch if definitely most intriguing. The Celtics were faced with a similar situation last season when they appeared to be slipping into severe mediocrity. Except the team found a second (or fifth) wind, made a push and gave reason to believe they had another run in them. In the end, Ainge made the right call to let them give it a go.
A slow start this season started the chatter again about if it was time to pull the plug. But the Celtics have again shown signs of life, winning four in a row to get back on the high side of .500. Not exactly what they had in mind when they restocked this offseason, but at least they're trending positively now.
Eventually, Ainge is going to have to go in another direction. It's become pretty apparent that Rajon Rondo is the genuine future of the roster, as he should be. Pierce is 35. Kevin Garnett is 36. The Celtics already let Ray Allen walk. It's about milking all you can out of the Ubuntu era Celtics, then selling as high as possible and rebuilding as quickly as possible.
Pierce absolutely still has a heap of valuel, even at his age. He still averages 20 points in his sleep and is hitting nearly 40 percent from 3. A contending team that needs some wing depth or an extra scorer could do mighty well to have a player like Pierce.
But as Berger notes, moving Pierce truly does mark the end of an era in Boston. The page would be turned and Ainge would be set to begin moving in a new direction. Something tells me the big contract the Celtics gave Jeff Green factors in somewhere here, but we've seen this will-they-won't-they dance with the Celtics before. And once again, it'll likely be dictated by just where they are when the deadline rolls around.
San Antonio's track record speaks for itself, but they've made a few puzzling moves this o...

The Kings top pick thinks your burgers are trash, California

Popovich added that Trump is 'unfit intellectually, emotionally, and psychologically' to be...
Larry Hartstein turned in a massive profit to close last season and locked in a pick for R...

Too many stars and not enough spots on the upcoming season's All-NBA teams

It appears Philadelphia will continue to be extremely cautious with its potential franchise...