Celtics owner: 'We had definitely hoped to try to make bigger moves'
Boston owner Wyc Grousbeck said that he'd hoped this offseason would go differently, but thinks the team has improved.
• 2 min read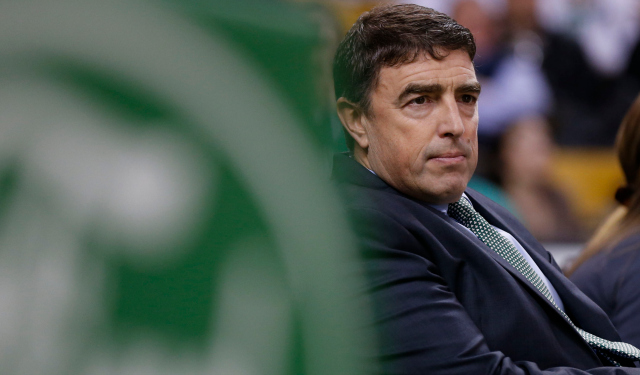 More Offseason Analysis: Coaching changes, news | Free Agency | Draft
Boston Celtics owner Wyc Grousbeck wanted to make a splash this offseason. The team wants Kevin Love. This is not a secret. While he didn't reference Love by name, Grousbeck did say that he'd hoped for "bigger moves," via WEEI:
"We had definitely hoped to try to make bigger moves this offseason, to be honest," he said. "Having said that, it takes two partners to make a trade, so we focused on longterm trying to build the club. We think we're a better team now — positioned for the future, some new young talent and even more draft picks — but it's been a patient summer so far, and I'm not always the most patient guy."

Without saying as much, Grousbeck vaguely referenced the Kevin Love sweepstakes. As rumors link Love's future with the Cavaliers, the C's owner preferred instead to focus on his biggest positive of this summer: Brad Stevens.

"I don't want to talk about anybody else's player, but I would say this is Brad Stevens' first offseason," added Grousbeck. "Actually, when I think about the offseason, I think about Brad evaluating our players and working with [Celtics president of basketball operations] Danny [Ainge] to evaluate the college talent, and it's actually meshed really well. They were very much in synch on draft night, so that's a positive for me. Brad is so excited to be here and to be building this thing. He's impatient as well, but his work ethic is extraordinary."
It's cool that Grousbeck is excited about Brad Stevens, but let's talk about the Celtics' offseason. They drafted Marcus Smart and James Young. They re-signed Avery Bradley for four years and $32 million. They added Tyler Zeller and Marcus Thornton. All of that is fine, and Smart could very well be a home-run pick. It's just, like Grousbeck said, not what the organization wanted.
Boston president Danny Ainge has been trying to position his team to be able to acquire a star. It has not happened. It might not happen anytime soon, with the assets he has at his disposal. This is sort of like the Houston Rockets situation, except the Celtics aren't a playoff team and they didn't lose a talented 25-year-old for nothing when they could have paid him less than $1 million next season. Sorry, Houston.
Anyway, most assumed Boston would go in one of two directions this summer -- Ainge would get someone like Love and accelerate the rebuilding process, or he'd trade Rajon Rondo and blow the whole thing up. Instead, it looks like the Celtics are heading for just about the same fate as last year.
To be clear, they should be better with a full season of Rondo healthy, plus Smart. There's just no reason to think they'll jump into the playoff picture without a significant trade. This isn't the worst thing in the world, but it'll require patience, something that Grousbeck admitted he doesn't always have.
Is this rock bottom for the Cavaliers because it sure feels like it is

Wade, as he's done so many times in his career, threw it up to LeBron for the thunderous f...

The Warriors coach added there should be no shame in being picked last since everyone's an...
We've got all the scores, highlights and news from all of Saturday's games

The two teams have reportedly not had any substantial discussions to this point

Oladipo may be getting most of the shine, but this second-year big man has been phenomenal...