Celtics President Rich Gotham talks Rondo, team's future
Celtics president says they're not boxed into any one plan and that Rajon Rondo remains a big part of their future.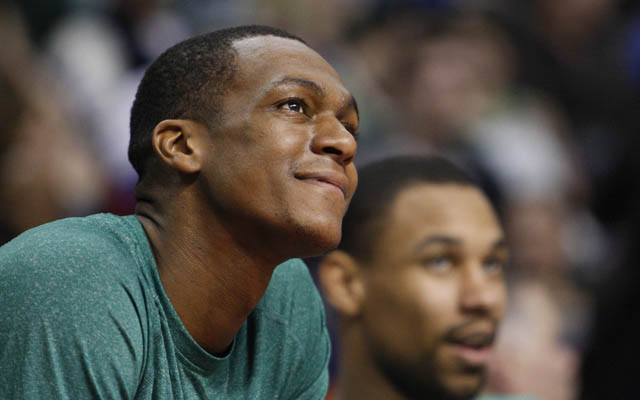 More Offseason Analysis: Coaching changes, news | Free Agency | Draft | Rumors
Boston Celtics team President Rich Gotham appeared on CBS Sports Radio Friday with Amy Lawrence. Gotham discussed Marcus Smart and James Young, who were taken in the 2014 NBA Draft and commented on Rajon Rondo's future with the team:
On Rondo:
"It's a two way street. ... We want him here and we're hopeful he wants to be here for the long term, which he says he does. He's our best player and in the NBA you win with talent. He's a big part of what we're doing and will continue going forward."
There was speculation that the Celtics would finally pick a path on draft night, either trading for Kevin Love to team him with Rajon Rondo or committing to a rebuild and trading Rajon Rondo for future assets. But Gotham's comments indicate that's not where the Celtics are. 
Their plan is actually pretty evident. Barring the superstar development of one of their draft picks, they're going to continue to accumulate assets to prepare for another 2007-like opportunity to grab a superstar, whether that's Love or someone else. But this stuck out as well, from Gotham: 
"We challenge ourselves to think big. And [president of basketball operations Danny Ainge] is great at that and doesn't put himself in any boxes. People think that because we took those picks at 6 and 19 and didn't trade them, that means we're done, it's now only about young player development. We look at the whole spectrum of opportunities."
So they're not going to box themselves in. They'll stay flexibile and see what comes. Whether you see that as flexibility or a lack of a plan depends on your perspective. But it doesn't change the fact that Boston had a great night with the draft Thursday. 
Markieff Morris was already in line to miss the start of camp due to a pending assault cas...

The 76ers should hopefully get a lot of play out of their young guys this season

Okafor's been on and off the trade block for over a year and doesn't seem to be in Philly's...
Fisher is the fourth NBA player to compete for the Mirror Ball trophy on the show

Barkley commends the NBA, sarcastically, for extending the season and reducing back-to-back...

Enes Kanter isn't seeing much comedy in the Kevin Durant social media situation