Celtics' Rajon Rondo could see rehab time in the D-League
The Boston Celtics aren't ruling out the possibility that Rajon Rondo does some knee rehab in the D-League before his return to the team.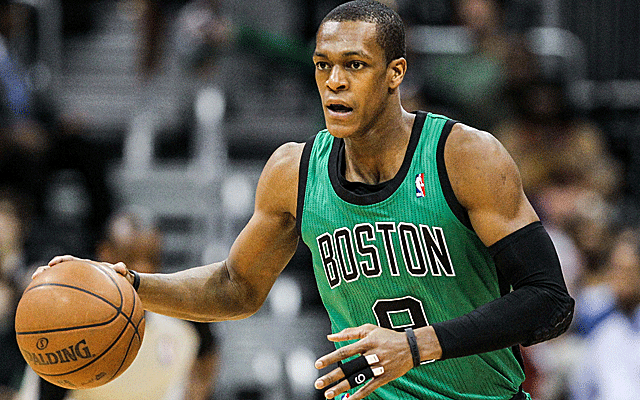 For a while now, a lot of people have envisioned the D-League becoming to the NBA what minor league baseball has been for Major League Baseball. It would be a place to develop young talent and possibly even put players for rehab assignments when they're coming back from injuries. We've seen just a few instances of this happen, mostly because not every team owns their own team and it's just not the typical practice.
The Boston Celtics may consider doing this with the return process of Rajon Rondo coming back from his ACL tear. Coach Brad Stevens told the media that Rondo spending time with the Maine Red Claws to get some game action is a possibility and something the organization has discussed.
#celtics coach Brad Stevens said Rajon Rondo heading to NBADL Maine for game action "is a possibility for sure," and has "been discussed."

— gary washburn (@GwashburnGlobe) December 30, 2013
The Celtics are the only NBA team affiliated with the Red Claws, meaning they could set up all of the sets and schemes in a D-League game that Rondo would be running when he gets back to Boston to play. Back in 2012, the Celtics entered hybrid affiliation with the Red Claws, giving them exclusivity when dealing with the club. 
For Rondo, this would allow him to get some important time on the court that is better than scrimmaging and practice but still allow him to work some of the rust off of his body and game without risking hurting the team. As we head toward a new Collective Bargaining Agreement in a few years, we may see the league set up all 30 teams to have their own D-League franchise and treat it much more like a true minor league system. The Celtics could be one of the teams ahead of that trend if they decide to use Rondo in some D-League action.
We've got you covered for all the scores and highlights from Sunday's NBA games

The Cavs superstar compared Kaepernick to Martin Luther King Jr. and Muhammad Ali

The Warriors coach isn't surprised that the president and LaVar Ball are in a war of words
Kyle Kuzma is tired of how his teammate Lonzo Ball is being treated

The Warriors used a huge third quarter to come back from a 23-point deficit to get the win

Three takeaways from Golden State's 24-point rally past the Sixers