Chandler Parsons isn't mad at Dwight Howard for comment
Mavericks forward doesn't mind center's comments about Rockets not being affected by departure of Parsons.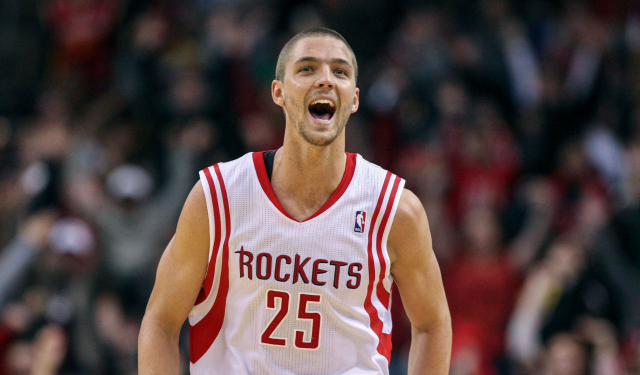 Offseason: Free Agency | Latest from Ken Berger | Rumors
Dallas Mavericks forward Chandler Parsons was on the Jim Rome Show Wednesday and responded to Dwight Howard's comment that the Rockets wouldn't be affected by Parsons' departure at all. 
After Parsons left, former teammate Dwight Howard said his departure "won't affect us at all."  Parsons said the comment didn't bother him, but it was "ridiculous."

"I know he didn't mean it. He's one of my closest friends," said Parsons. "He's got to be confident with the Rockets moving forward with or without me there, so I understand where he's coming from. I think it's a ridiculous statement, but at the end of the day, he has to stick up for the Rockets and I don't think he meant it in a bad way and didn't try to bash me at all."
via Chandler Parsons on Mark Cuban: "I think he's the best owner in sports" « The Jim Rome Show.
It's good that Parsons didn't take that comment personally. Howard was clearly just trying to prop up the idea that the Rockets would remain competitive. It wasn't about Parsons, it was about the Rockets. 
Also, he was lying. 
They're clearly going to miss Parsons. Trevor Ariza is a better defender but a worse scorer and Parsons had familiarity both within the system and with his teammates. The Mavericks aren't necessarily a title contender, and the Rockets aren't left devastated by Parsons' departure. There's even a chance that they could improve overall, with the additions of more defensive personnel, better injury luck and significant continuity they could improve. 
But they'll miss Parsons. But that doesn't mean there's any reason for bad blood between Parsons and his former teammates. 
The NBA broke its silence with a statement related to the Lakers-Paul George tampering cha...

The Clippers big man thinks LeBron will reunite with the banana boat crew at some point

Have the Clippers reportedly found their next GM?
The NBA stayed to the point in their response to the Greek basketball federation

The Pacers believe the Lakers tampered with Paul George before they traded him

Among the questionable decisions by Jackson was signing Noah to a long-term, lucrative dea...