Chandler Parsons reveals Patrick Beverley to start over Jeremy Lin
Rockets to go with shooter defender over pick and roll expert being paid nearly $8 million more this season.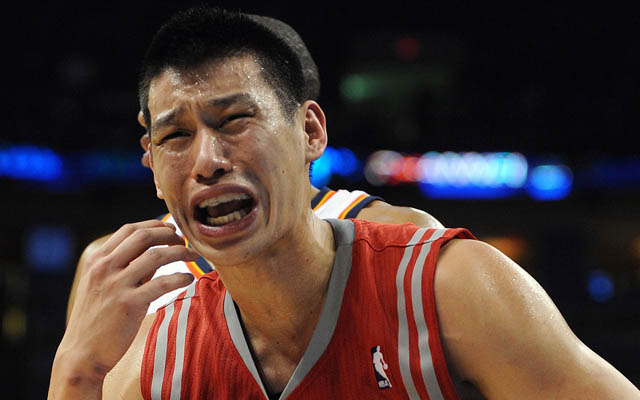 On Tuesday before the Rockets' season opener Wednesday vs. the Bobcats, Rockets forward Chandler Parsons may have inadvertently let slip that Patrick Beverley, not Jeremy Lin, will start the first game at point guard. From CSN Houston:
"Yes," McHale said when asked if he had a starting five set for Wednesday night. That was followed by a question asking if he'd tell the media who that is. "No," McHale answered.

Chandler Parsons was asked if the players had been told who the starters would be and he sounded almost surprised that McHale had not shared that with the media.

"I don't know why it's a big surprise," Parsons said. "It's the same as how the preseason ended."

That means Patrick Beverley will not only make his first opening night roster, he'll be making his first opening night start.

"I haven't had the fortune to play in the NBA on opening night," Beverley said. "It's going to be my first. I'm definitely excited."
via Parsons reveals Rockets' starting lineup | CSN Houston.
See, the problem is that Lin is making $8.3 million this season, while Beverley is maing under $800,000. That's not a great market efficiency, even factoring sixth man value. There's some semblance of order here, though. Beverley's a better shooter and defender, and that's what they need in the starting unit. Meanwhile, they need someone to run pick and roll and handle the ball off the bench. 
But $8 million per year for a backup point? Sounds problematic. And it's only going to increase the calls that Lin is a disappointment after his run in New York. If the Rockets shop Lin, they're going to need to take some unappealing assets back due to the over $16 million owed this season and next. 
Starting is always an overblown concept, but really, the Rockets' best lineup this year could feature James Harden at the three with Beverley and Lin. That would maximize their talent. Dwight Howard lets them play small. It's one of the perks of having the best center in the league.
HT: PBT
Oklahoma City has reportedly offered the MVP a five-year extension worth over $200 million

The big man was a big part of the Warriors' championship run last season

The Cavs jokes were out in full force after Golden State reportedly agreed to sign Antonius...
New York seems to be at the top of Irving's list of preferred destinations

Is it just a normal workout, or is LeBron continuing his recruiting efforts?

Chris Bosh answered on the spot about the LeBron James and Kyrie Irving situation