Channing Frye would love to work out an extension with the Suns
Phoenix Suns' big man Channing Frye would love to work out a contract extension with the team and remain there long-term.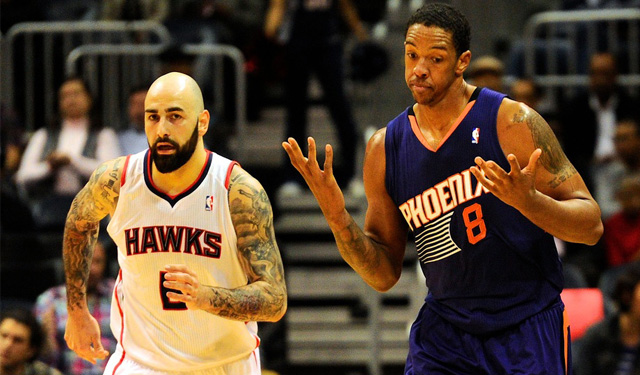 More NBA: Power Rankings | Expert Picks | Latest news & notes
The Phoenix Suns have an incredibly bright future after this surprise season. While picked by most to be near the bottom of the league in a rebuilding year, the Suns dazzled us all season with a fun style of play and a regular season that fell just short of making the playoffs. They don't have a lot of long-term money committed to their salary cap and will have a lot of decisions to make on where the roster goes from here.
If it's up to Channing Frye, he'll be a part of that future. The 6'11" sharpshooter was a big part of their success this season and with a player option for the 2014-15 season for $6.8 million, he'd love to work out a contract extension with the team to keep him around for much longer than that one extra season. From the Arizona Republic: 
Frye would like to negotiate a contract extension after averaging 11.2 points and 5.1 rebounds this season on 43.3 percent shooting, including 37.1 percent on 3s.

"I want to talk to the Suns and make sure we're both on the same page about what I want," Frye said. "I'd love to stay here. It's up to them and their future and what they want to do. I love wearing this uniform. I think I take a little more pride in it than everyone else because I'm from here.

"It's looking for the future and if I could get something longer. I got kids and I want to be somewhere. I've been here for five years already so it wouldn't be bad to kind of not be worried about being traded or buying a house."
Frye had an excellent season as a role player. He was fifth on the team in scoring at 11.2 points per game, fourth on the team in rebounding at 5.1 rebounds per game, and made the second most 3-pointers on the team behind Gerald Green. His 37.1 percent from downtown was fifth on the team. He's played in all 81 games up to this point, averaging 28.3 minutes.
The Suns are expected to commit big money to Eric Bledsoe when he hits restricted free agency, but they still have a lot of flexibility moving forward. They'll be able to add a significant player for around for a salary above the league's mid-level exception or they can wait a season and have enough cap room to add another max player if they're so inclined. Would Frye take a pay cut from his $6.8 million deal next season if it meant long-term security for him and the organization?
Westbrook's late layup gave the Thunder a 109-108 victory

LeBron became the seventh player in league history to reach the milestone

There were a few things that stood out from Tuesday's All-Star selections
Here are three players from each conference who had legitimate claims to make the game

LeBron achieved the milestone in the first quarter Tuesday

Here are the full lineups for the 2018 NBA All-Star Game