Charles Barkley would be interested in Sixers GM position
Charles Barkley tells Philadelphia radio host he would be interested in the Sixers' vacant GM position.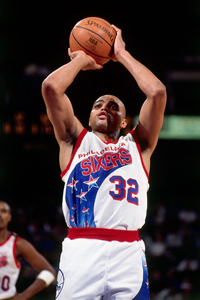 Charles Barkley is interested in the Sixers' GM position.
(Getty Images)
That sound you hear is thouands of reporters foaming at the mouth for a chance at this. General Managers generally are reserved guys who don't say much, don't make a fuss, and are hard to get ahold of. 
Charles Barkley is none of those things, but apparently is interested in the opening for Philadelphia
76ers
GM with Rod Thorn retiring. From CBS Philly:
94WIP's Anthony Gargano is reporting that Charles Barkley would be interesting in becoming the new Sixers general manager. Gargano asked Barkley via text message if he'd be interested in being the Sixers GM, and Barkley responded "yes sir."
via Charles Barkley Interested In Being Sixers General Manager « CBS Philly.

Barkley has no experience in managing an NBA team. This doesn't exclude him from the position. Take a look around the league and that's pretty easy to see. He would be a big-name acquisition to instill some excitement in the team, but it's a pretty risk bringing him on board.

The Sixers, meanwhile, are interviewing a pretty solid host of candidates for the position. Barkley might be worth an interview for PR's sake, but don't count on seeing Barkley explaining draft day deals any time soon. 
Trail Blazers guards Damian Lillard and C.J. McCollum have been pushing for Anthony to join...

Anthony reportedly gave the Knicks an expanded list of teams he'd waive his no-trade clause...

The Suns will also receive a second-round pick in the deal
Kerr noted Warriors are deeper than the NBA championship team of last season

The Dubs will make a decision as a team on visiting the White House, but Steph would vote...

Wolves are an up-and-coming NBA squad, but this region knows heartache too well