Charlie Villanueva is ready to play, but his rotation spot's been absorbed
Charlie Villanueva has returned from injury but won't be getting paying time for the Pistons this year, most likely.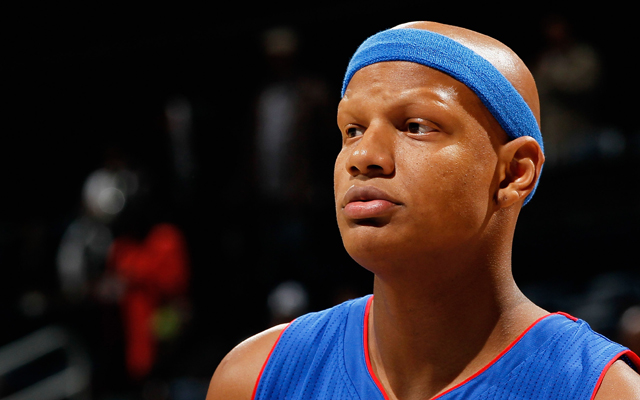 Charlie Villanueva's all healed up but not going anywhere on the Pistons' bench.
(Getty Images)
Well, you have to give the Pistons credit. They aren't just going to hand out roster spots to big contracts in order to save face. 
Charlie Villanueva
has missed most of the season due to injury. He's been busting his back in rehab trying to get healthy so he can contribute. But despite being ready to go, he's not getting minutes. That doesn't sit well with him, just the way it doesn't with any player. The reason actually has very little to do with Villanueva and has to do with two things. One, the Pistons have finallys settled into what they feel is a stable frontcourt rotation that emphasizes the things Lawrence Frank focuses on (defense, rebounding), and two, they're looking towards the future, which clearly doesn't include Villanueva, since they're not playing him. From the
Detroit News
: 
"Mentally it's frustrating and hard because you worked so hard to get healthy and help the team out," said Villanueva, who fought ankle problems that kept him out the first two months of the season. "Then after you work so hard you don't get the minutes that I feel like I should be playing."

Villanueva is stuck behind Monroe, Jason Maxiell, Ben Wallace and Jonas Jerebko in the frontcourt and Frank likes the rotation as such, despite Villanueva's diverse set of skills.

"Look, it's not a knock on Charlie," Frank said after Monday's practice. "Charlie is working hard and doing what we're asking, but my thing is Greg, Max, Jonas, Body (Wallace) — you know they are all doing basically what we're asking. In order to put Charlie in there, one of those guys has to sit.
via Frustration grows for Pistons' Charlie Villanueva | The Detroit News | detroitnews.com.

Monroe is the clear-cut future of the team, a franchise center. Maxiell and Wallace balance out Monroe with defense, and Jerebko may be the best value reserve big in the league for everything he does on the floor. Villanueva has disappointed to an extreme degree since signing a massive contract three summers ago. He's a prime candidate for the amnesty clause, should new ownership decide to press the button to clear the cap room, especially with the Pistons reportedly likely to draft a big. 

Were this before the deadline, you could see Villanueva getting playing time to try and up his trade value. But since it's a dead time until summer, the Pistons need to focus on improving and evaluating guys they have going forward. That said, it's never impossible to move a player, and despite Villanueva having $16 million left on his contract over two seasons, a team might be willing to absorb him for the right return.

Either way, at least Villanueva isn't pitching a fit about it. He's disappointed, but doing his job. The Pistons have had more than enough drama over playing time over the past two years.  
(HT:
PistonPowered
)
Is this rock bottom for the Cavaliers because it sure feels like it is

Wade, as he's done so many times in his career, threw it up to LeBron for the thunderous f...

The Warriors coach added there should be no shame in being picked last since everyone's an...
We've got all the scores, highlights and news from all of Saturday's games

The two teams have reportedly not had any substantial discussions to this point

Oladipo may be getting most of the shine, but this second-year big man has been phenomenal...