Charlotte looking to deal No. 2 pick
There's no franchise-changer in this year's NBA Draft beyond Anthony Davis and that's one reason why the Charlotte Bobcats are strongly considering dealing the No. 2 overall pick. One target, due to money, could be Oklahoma City's James Harden.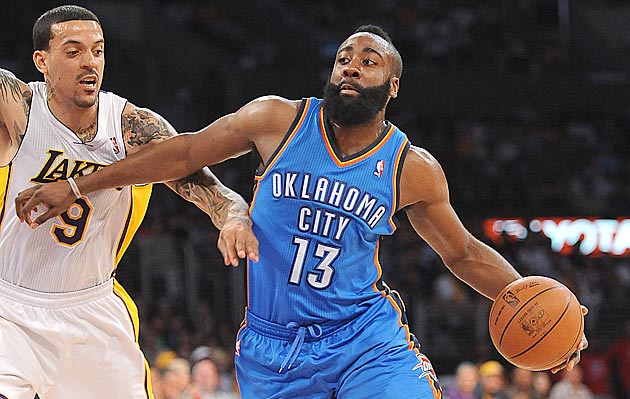 James Harden is the NBA's Sixth Man of the Year, but OKC might not be able to afford him after next season. (US Presswire)
The Charlotte
Bobcats
are eyeing the possibility of dealing the No. 2 overall pick in a trade that would bring a more established player, multiple sources told CBSSports.com. 
Rod Higgins and Rich Cho understand that the Bobcats need more than just a talented rookie, whether it be Bradley Beal, Michael Kidd-Gilchrist, Harrison Barnes, Thomas Robinson or even Andre Drummond -- to make the Bobcats competitive from their laughingstock of a season. 
One source said that Oklahoma City's James Harden could be in play due to the Thunder's salary situation following next season. GM Sam Presti already has Kevin Durant and Russell Westbrook on the books for more than $29 million next season -- and both Harden and Serge Ibaka will command huge contracts after the 2012-13 campaign. 
Charlotte was an NBA-worst 7-59 this past season and there is no clear-cut second overall pick behind Anthony Davis, who will be taken by New Orleans with the No. 1 selection on June 28. 
Beal and Barnes can both help Charlotte on the offensive end while Kidd-Gilchrist and Robinson would bring a toughness, especially on the defensive end. Drummond is a high-risk choice despite his physical tools. 
None of these players is considered a franchise-changer -- and that's why the Bobcats would prefer to deal the pick and land an established player such as Harden, who could come in immediately and make an impact. 
The Wizards star says the NFL won't change until important players like Brady and Rodgers speak...

Popovich spoke at length about sports, race, culture, and politics during Spurs media day on...

Carmelo Anthony finds the idea of coming off the bench very funny
Several teams spoke about Trump's recent comments about protests and the Warriors' White House...

Lonzo's signature shoe, the ZO2 Prime, was recently re-released after the original design was...

The Bucks will soon need to decide whether they should maintain their patient approach or make...