Charlotte submits bid for future All-Star game
Could the Queen City land the King of all major NBA events?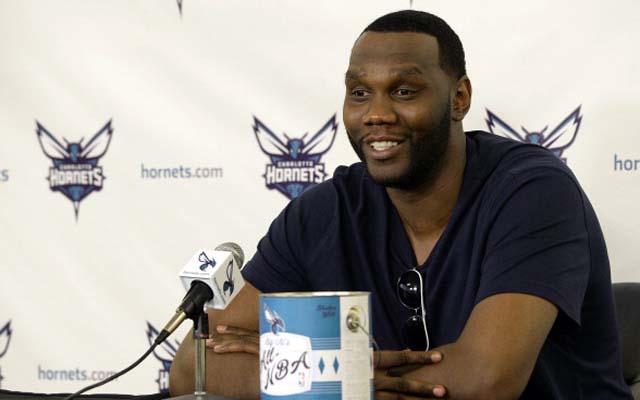 Offseason: Free Agency | Latest from Ken Berger | Rumors
Charlotte, NC city leaders announced Monday that they've put together a bid for an All-Star game to come to Carolina as early as 2017. 
The Charlotte Sports Foundation CSF and the Charlotte Hornets announced this morning in a press conference that the team will officially submit a bid for Charlotte to host the NBA All-Star Weekend at Time Warner Cable Arena in 2017 or 2018. The bid is the result of a partnership between the city of Charlotte, local community and business leaders, and the Hornets.A contingent of representatives including Fred Whitfield, Hornets Sports & Entertainment President & COO; Will Webb, CSF Executive Director; Johnny Harris, CSF Board Chairman and President of Lincoln Harris; Dell Curry, Charlotte Hornets legend and All-Star participant; and Hornets mascot Hugo will fly to New York this afternoon to personally deliver the All-Star Game bid to NBA Deputy Commissioner Mark Tatum and other league executives.
via Charlotte Sports Foundation and Hornets Announce Official Bid to Host NBA All-Star Weekend | Charlotte Hornets.
The league has traditionally wanted to balance big markets with smaller ones. The league is headed to New York next season in 2015, and Toronto in 2016. There's a widely-held belief that the league will return to New York to host the game at Barclays Center (moving the Saturday night festivities to Madison Square Garden in a switch from 2015) in order to placate the Nets. 
But successful All-Star Games have been held in New Orleans. Bigger markets and venues are better overall, but Charlotte is an event city (like Indianapolis) so logistically, it can work pretty easily. The have the facilities to host the events and handle the supporting offices, and enough hotels. And hey, Charlotte in February sounds more fun than Toronto, despite Toronto's metropolitan status. 
We'll see if the Hornets and civic leaders can pull this off. 
Oh, hey, by the way, my favorite part of this is that Huge flew to New York for the meeting. You know, just sitting in two coach seats, eating peanuts. Hugo walking down the streets of New York. Checking into his hotel, complaining about the shower entrance being too small. Mascots should be required for all league meetings. 
Oklahoma City has reportedly offered the MVP a five-year extension worth over $200 million

The big man was a big part of the Warriors' championship run last season

The Cavs jokes were out in full force after Golden State reportedly agreed to sign Antonius...
New York seems to be at the top of Irving's list of preferred destinations

Is it just a normal workout, or is LeBron continuing his recruiting efforts?

Chris Bosh answered on the spot about the LeBron James and Kyrie Irving situation