Chauncey Billups says Joe Dumars apologized to him
Chauncey Billups had a difficult separation from the Pistons when he was traded in 2008. But he says Joe Dumars has apologized for that, and everything is good now.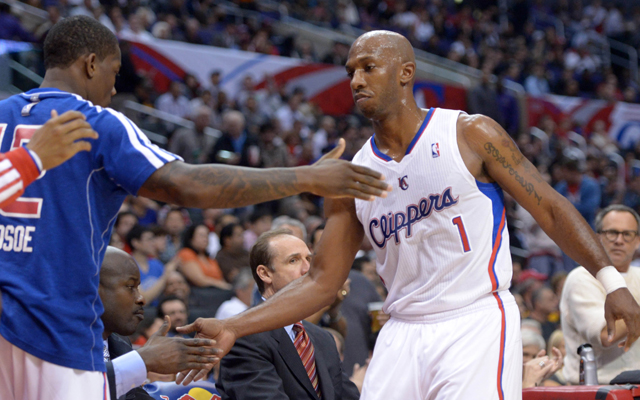 Chauncey Billups said he wanted to retire in Detroit. And he's probably going to get that opportunity, but just not in the way that he'd previously pictured it. 
The Pistons and general manager Joe Dumars traded Billups to Denver in 2008, shortly after the point guard had signed a long-term extension. That, among some other things, led to a little tension between Billups and Dumars. 
But with the 35-year-old point guard returning to Detroit, reconciliation was needed, and Billups said Dumars extended the olive branch. Via the Detroit News:
"I just needed to hear him apologize for how it went down, to kind of stand on it, and he did that," Billups said. "As a man, I can't do anything but respect that.

"Because I had to know it was nothing personal, it was what he thought was a good business move. But we had a personal relationship. I forgave Joe for all of that and we moved forward. I'm great."
Billups and Dumars had more of a mentor-apprentice type of relationship, because of their shared positions as well as Billups saying he has front-office hopes.
"Maybe it's because of my aspirations of going into the front office, I got up under him like a mentorship type of thing. That's probably why our relationship was so close and so good. That was key, I needed to hear that. I questioned that prior to talking to him."

Whatever the case is, some things had to be put in the past before Billups decided he was willing to return. And, once that happened, it was a no-brainer for him to come back to the place where he won a championship in 2004. 
The inaugural BIG3 season comes to a close Sunday with the championship game

Thomas was traded to Cleveland yet some fans are taking it out on him ... and his jerseys

The Celtics dealt the No. 1 pick to Cleveland as part of the Kyrie Irving-Isaiah Thomas tr...
Thompson was rumored to have been a point of discussion with the Cavs regarding Kyrie Irvi...

What the Celtics and Cavs look like after the Eastern Conference powers swap point men

Simmons was the No. 1 pick in the 2016 NBA Draft but did not play last season