Chis Bosh favors ban of 'N-word'
Miami Heat forward speaks out on what he feels is an overabundance of racial slurs used colloquially in mainstream conversations.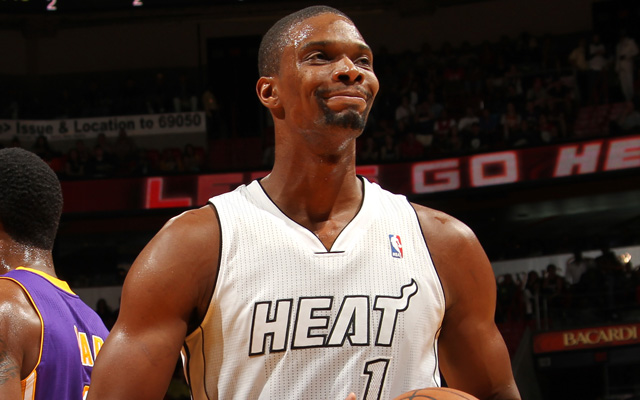 Miami Heat center Chris Bosh told reporters Wednesday that the NBA should follow the NFL's lead in establishing in-game penalties for use of "the n-word" as well as other racial and homophobic slurs. From ESPN: 
Heat center Chris Bosh would support the NBA following the NFL's lead in efforts to consider penalizing players for using the N-word and other racial slurs during games.

Bosh, who is black, said he hears the N-word used by players during games and that it creates uncomfortable situations, although he says it's used primarily "in a friendly" way.

Bosh was asked about the subject by a Miami-area radio reporter during his session with media after Wednesday's practice in preparation for Thursday's game against the New York Knicks.

"It's a very tough situation," Bosh said of the prospect of penalizing the use of the N-word. "If that's the case, they should ban all slurs. And I know it's a big deal, because I think that word is used too much, especially in the mainstream nowadays."
via Chris Bosh of Miami Heat says NBA, NFL should ban use of 'all slurs' - ESPN.
Clippers forward Matt Barnes defended his use of the term last November after he was fined by the league for a tweet that included it. Joakim Noah was fined $50,000 in 2011 after cameras caught him using a homophobic slur. Lakers guard Kobe Bryant was fined for an apologized for using the same term earlier that season.
Kobe the rookie had no fear facing off against Michael Jordan the legend. Then he gave up a...

Once again the Jazz will be without Rudy Gobert due to injury. How will they fare?

Lorenzen Wright's ex-wife has been charged with his 2010 murder
Hayward, free of his walking boot as of Wednesday, says his mind is open to a return before...

The former Knicks star returns to New York for the first time since joining the Thunder

Former longtime Knick Carmelo Anthony makes his return to New York