Chris Andersen cleared in bizarre police investigation
Chris "Birdman" Andersen was cleared by police in relation to an investigation that involves identity theft, fraud and multiple crimes allegedly committed against Andersen.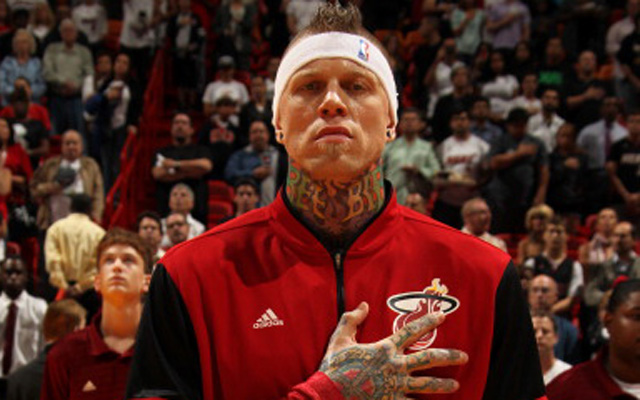 Chris Andersen, the Miami Heat's has been cleared of any wrongdoing in a bizarre case involving law enforcement agencies in Colorado and Canada. 
An investigation that involved Colorado police searching Andersen's home and confiscating his computer over a year ago brought in the Douglas County Sheriff's Office's Crimes Against Children division. How it played out was revealed in a stunning and complex story from SI.com. 
Some selections, first from Andersen's attorney, Mark Bryant: 
"A female fan in 2010 mailed Mr. Andersen multiple letters and included several photos in which she was scantily clad. Chris and this woman communicated with each other and in 2011, this woman, who represented herself as 21 years of age, flew to Colorado, showing her required identification. After leaving Colorado, she became upset at his lack of interest. In 2012, she threatened to retaliate if he did not provide financial remuneration. ... Mr. Andersen has been fully cooperative with the authorities."
Can we take a second and note the fact that Andersen had to check "her required identification" before having sex with her? What's next in this process, since (we'll get to this), she wasn't actually 21, but 17? Are players, if they want to continue what seems like a pretty bizarre-to-begin-with practice of sleeping with random people who send them mail, going to have to put in further tests to validate identities? 
So what's the deal with this girl? 
At some point during his tenure with the Nuggets, Andersen had a consensual sexual relationship with a woman from California. Though she had allegedly misrepresented her age to Andersen, he appears to have broken no laws in Colorado, where the statutory age of consent is 17.
OK, so that seems straightforward. Woman enters sexual relationship with player, lies about age, wasn't under-age by the letter of the law, and then tried to extort money from him later. But what about the confiscation of the electronics? 
And that's where this thing goes completely off the rails. 
Concurrent with that, Andersen was the victim of cyber identity theft at the hands of a different woman in Canada. The identity thief was able to access Andersen's email, social media outlets, his phone, bank records, and even his video game console.

Posing as Andersen, the Canadian woman allegedly orchestrated the initial tryst between the player and the California woman. She then began communicating and corresponding with the woman from California. At one point, representing herself as Andersen, the imposter began making demands -- some of them, sources say, sexually explicit -- of the California woman.

The woman believed that it was Andersen making the demands and felt increasingly threatened. Eventually she went to the authorities. The sexually suggestive threats triggered the investigation of the Internet Crimes Against Children unit. When Douglas County Sheriff's office executed its search warrant on Andersen's home in Larkspur, Colorado, 40 miles south of Denver, police took his computer and other electronic equipment.

Investigators in the U.S. and Canada worked to connect dots, they amassed more than 4,000 pages of documents and found tentacles in multiple states. According to sources, there were allegedly multiple victims in multiple states -- and may be other athletes whose identities were involved -- but investigators believe one woman is at the center of it all.
... Wow. 
So Andersen was allegedly the victim of identity theft in which a Canadian woman, who then, posing as Andersen, contacted a 17-year-old girl who was posing as a 21-year-old woman and participated in an online relationship with her. Our Canadian hacker then escalated the sexual nature of that relationship until the 17-year-old terminated the tryst and contacted authorities.
Oh, and the hacker has done this, or something like this, to multiple people across multiple  states. 
What. In hell. 
It is my understanding that the investigation is fully culminated at this juncture," Bryant said today. "What I can disclose to you is that the Douglas County Sheriff's Office and the Royal Canadian Mounted Police have completed an extensive investigation and put together extraordinary effort to follow what I can only describe as a Daisy chain of events across several states and two countries." (A Colorado law enforcement source familiar with the case confirms Bryant's characterization.)

Adds a spokesperson from the 18th Judicial district in Colorado: "It would be premature for us here at the 18th Judicial District Attorney's Office to discuss this case before filing charges. We are looking at 4,000 pages of information in relation to an investigation that is extremely complex. The Douglas County Sheriff's Office has conducted a highly sophisticated investigation where they have crossed state lines and international borders to obtain evidence and pursue the truth in this case. We will announce our findings in the near future after a careful review of the evidence. Based on the information that we have been able to obtain and available and analyze we are not pursuing charges against Chris Andersen."
So the important facts are that Chris Andersen is innocent, and the entire world has gone mad. The end. Andersen averaged five points and four rebounds last season for the Heat. 
Dan Fegan was once considered as one of the most influential agents in the NBA

Ersan Ilyasova isn't quite the player he used to be, but maybe the 76ers can bring the best...

LeBron James speaks his mind and that's part of what makes him a superhero to Gregg Popovi...
We've got all the scores, top plays and news from Sunday's NBA games

Stephen Oh has his finger on the pulse of Wizards basketball and released a play for Sunda...

The Warriors don't have any interest in winning a popularity contest. They're fine winning...