Chris Bosh could be shutting it down for the season, decision coming
Chris Bosh of the Miami Heat is meeting with team officials to decide on the rest of this season.
Two times in the last year, Miami Heat big man Chris Bosh has been faced with a decision in regards to shutting down the rest of the season in order to preserve his health. Last year, he was finished after the All-Star break when doctors found blood clots in his lung and he was forced to abruptly end his regular season. This year, blood clots in his legs have left a better picture and more possibilities for Bosh returning to play this season, but not at a risk anybody seems terribly comfortable with taking.
Adrian Wojnarowski of The Vertical is reporting Bosh is under pressure from the team and doctors to sit out the rest of the season. He'd then be evaluated in three to six months to see if and when he can return to the basketball court. He could continue to play with blood thinners, but that leaves open a huge risk for Bosh should he be elbowed or take a spill that causes him to bleed.
Miami Heat All-Star forward Chris Bosh is under increasing pressure from physicians and the organization to sit out the rest of the season because of the potential dangers of a recurring medical condition, league sources told The Vertical.

Bosh has a meeting planned with Heat officials, including owner Mickey Arison and president Pat Riley, in the next 24 hours to move closer to a final determination on his status, league sources said.

Bosh, 31, has been searching for ways to continue playing this season with the use of blood thinners but that scenario has been met with significant resistance, sources said.

If Bosh is determined to be out for the season, his prospective return to basketball would be re-evaluated again in three to six months, sources said.
First and foremost, Bosh's long-term health is the most pressing issue here. This becoming a recurring problem, especially when we've seen former NBA players lose their lives due to complications from blood clots, brings great concern and consideration about Bosh's ability and likelihood to live a long life. Bosh has said on numerous occasions that he was terrified for his life last year when this popped up. It doesn't seem as bad this time around, but twice in one year has to begin to threaten his career.
If the Heat are asking him to shut it down, he likely will. Nobody is going to ask him to risk his life, and as much as he loves the game of basketball, he shouldn't do it. It throws a wrench into the plans of the Heat, who have essentially built their current roster around his decision to stay in Miami when he was a free agent in 2014. He signed a five-year deal for $118 million and became the centerpiece for them in many ways.
The orgnanization will happily pivot and find a way to adjust for a life without Bosh if he does shut it down this season and even if it ends up stopping his career. As long as Bosh can be healthy off the court, they'll deal with it. As for right now, we'll wait and see if the seemingly inevitable decision will get made by Bosh and his family.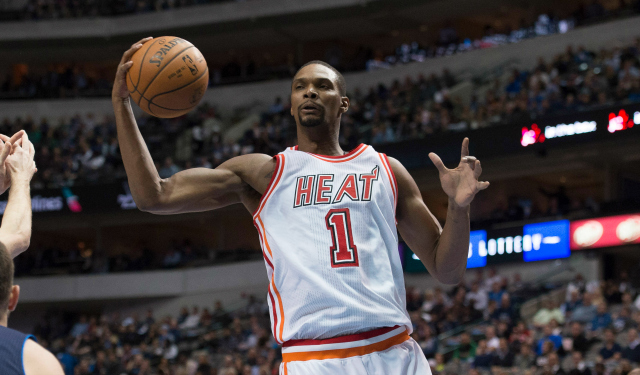 An old rivalry is reignited between LeBron James and the Cavaliers and John Wall and the W...

SportsLine's Mike McClure, a DFS pro with more than $1M in winnings, gives optimal lineup...

LeBron had 29 points, 11 rebounds, and 10 assists in the Cavs' 109-100 win over the Jazz
The montage showed Carmelo's best Knicks moments before playing the Thunder game

KCP can't leave California for 25 days due to the terms of his pleading guilty to a misdemeanor...

Keep it right here for all of the news, notes, scores and highlights from around the leagu...