Chris Bosh on Game 3: 'Probably the worst game we've played together'
Miami big man Chris Bosh was disappointed in the way his team competed on Tuesday night.
• 1 min read
More postseason coverage: Playoff schedule, results | Latest news, notes
Miami Heat big man Chris Bosh is known for being honest with the press, and he didn't hold back on Wednesday when talking about the previous night's 19-point loss in Game 3 of the NBA Finals. 
"It was probably the worst game we've played together," Bosh told reporters, via Bleacher Report's Ethan Skolnick. "It was a collective funk. Just everything."
As you undoubtedly know by now, the San Antonio Spurs made history by shooting 75.8 percent from the field in the first half, a Finals record. Miami surrendered 71 points before halftime, and its second-half comeback attempt was not nearly enough. 
"Honestly, we lost trust in each other," Bosh said, via the Toronto Sun's Ryan Wolstat. "It was disappointing to see. Worst game of the season."
Bosh himself had nine points on 4-for-4 shooting, but only had 12 touches all game, per ESPN Stats & Info. The Heat need him to be much more involved than that. That's on the entire team, though, and Bosh vented about getting away from the game plan.
"When we deviate from what we do, we get our ass kicked," he said, via Skolnick.
Looking ahead to Game 4, Bosh said he doesn't want to stay mad, as he is "a happy dude," but added that "we know we really did ourselves a disservice," via ESPN's Michael Wallace. Miami will have to come out with a different sort of energy to start the game on Thursday.
"We better get it together," he said, via the Associated Press' Tim Reynolds, "or we don't even want to think about what happens."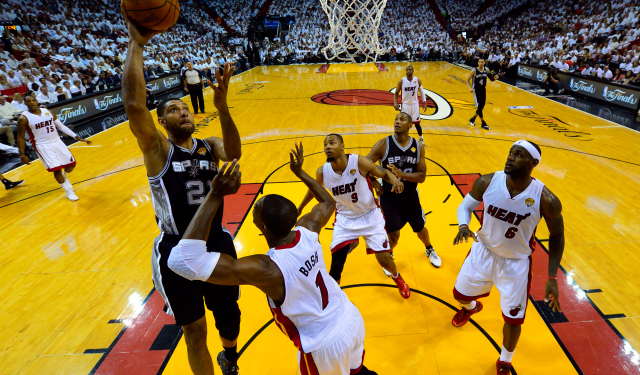 With 2K18 out everybody wants to know who has the 10 highest ratings in the game. Here's the...

Durant noted in an interview that all of the criticism in the immediate aftermath hit him...

Want the swagger of LaVar Ball? "NBA 2K18" lets you copy his absurd run from his WWE appea...
Durant apologized for a few tweets in which he criticized OKC and his former coach Billy D...

Lue does not expect the Cavs' big trade to affect the team's starting frontcourt ... at least...

Dwight Howard wants to be a farmer in his future and retire with his donkeys