Chris Bosh says Game 1 was 'probably the hardest game' of his career
Heat forward admits to exhaustion in the wake of the AT&T Center's air conditioning failure Thursday.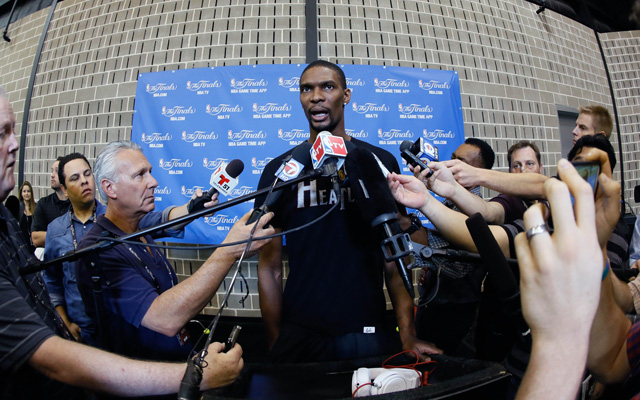 More Game 1: Court Vision | LeBron's cramping | Steamy conditions
SAN ANTONIO -- While so much attention was built around LeBron James and "CrampGate" Friday after the Heat's 95-110 loss to the Spurs in Game 1 of the NBA Finals, other members of the Heat were ironically dealing with the aftermath of the sweltering heat caused by an air conditioning malfunction at AT&T Center Thursday. 
Chris Bosh Thursday night had brushed off comments about the effects, saying that he'd played under similar circumstances in high school in Texas, but Friday admitted to being exhausted. 
"I just woke up, and I definitely don't want to be here," he joked. 
Bosh said Thursday he didn't feel the temperature "played a factor," but Friday admitted a little bit more about the struggle of Game 1's environment. 
"It was a very difficult game, probably the hardest game I've ever played in my career."
I asked Bosh if the rebounding swing that occurred in which the Heat rebounded better in the second half (Miami rebounded 90 percent of San Antonio's misses in the second half vs. 76 percent in the first half) had to do with exhaustion impacting San Antonio. 
"We missed a lot of shots. They made 'em. So the numbers are going to sway a little bit," Bosh said.
Dwyane Wade said the team spoke Friday morning and focused on hydration throughout the day. LeBron James said he received IV treatment after the game, while Ray Allen actually said he felt better Friday morning than he usually does. 
"I actually feel more alive," Ray Allen said. "Usually I would be stiffer. Right now my body feels pretty good. It's good day of rest, though. "
Is this rock bottom for the Cavaliers because it sure feels like it is

Wade, as he's done so many times in his career, threw it up to LeBron for the thunderous f...

The Warriors coach added there should be no shame in being picked last since everyone's an...
We've got all the scores, highlights and news from all of Saturday's games

The two teams have reportedly not had any substantial discussions to this point

Oladipo may be getting most of the shine, but this second-year big man has been phenomenal...