Chris Bosh says the Spurs are playing a 'mind-game' leaving him open on 3s
Chris Bosh and the Spurs are tangling in a 3-point mind-game, as Bosh puts it.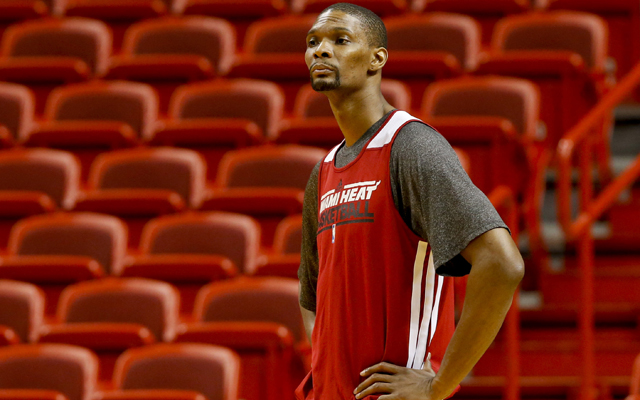 SAN ANTONIO -- Entering Game 1 of the NBA Finals, Chris Bosh was 15 for 31 from 3-point range for the Heat. He went 0 for 4 in Game 1, and more importantly, missed a critical one -- wide open, mind you -- late in the fourth. 
In Game 2, Bosh attempted a grand total of zero shots from deep. Why? Because the Spurs were leaving him too open, that's why. 
"It really seemed like that's what they wanted me to do," Bosh said at shootaround Tuesday. "So I'm not going to do it right now. They wanted me to shoot 3s. I could tell by looking at the film. So, I kind of changed it up because nobody was closing out to me when I catch it, nobody was closing out to me when I'm shooting. I just wanted to get to an area I could be more aggressive and really work against that."
Bosh went 6 for 10 overall in Game 2 for 12 points, with two attempts coming in the paint and the rest from mid-range, which has been his spot since joining the Heat.
Bosh shot a career-high 53 percent from just inside the 3-point line this season. He also attempted and made career highs in 3-pointers, going 21 of 74.
"It's a little mind game. I know what they're doing," Bosh said. "Once I saw that, I said, 'OK, all right, I need to switch it up a little bit.' I can always step out and knock those down, but to get in a better rhythm, I think starting closer to the basket is ideal."
Bosh isn't, and really never has been, a post player. He doesn't play with his back to the basket, and he doesn't call for the ball on the block. He's a face-up guy who excels in pick-and-pop situations. He's spaced the floor more this season and in the postseason as well, but said he's trying to get back to playing a little more inside-out. 
"Normal. Normal," Bosh said when asked how it feels to go more inside. "It's what I do. Of course I'm outside the box and I'm a little further away, but being a little closer they feel more at risk. Even if I don't shoot it, I just want them thinking about it a little more."
Per Hoopdata, Bosh's shot distribution this season looks like this: 3.8 a game at the rim, 1.1 from 3-9 feet, 1.1 from 10-15 feet, 4.9 from 16-23 feet and again, a career-high 1.0 3s. 
After Game 2, Bosh said he made a "personal" adjustment to focus more on playing closer to the basket.
"Yeah. I had to be a little bit more honest. That's more of what I do," he said. "That's an adjustment I made personally. It worked out pretty good, so we'l see what happens going forward."
Bosh has had 3-point success in San Antonio, though. Who can forget his game-winning 3 late in the regular season where the Heat sat both Dwyane Wade and LeBron James against the Spurs? Bosh hasn't, that's for sure.
"Me and Shane (Battier) were just talking about it," Bosh said.  
One thing Bosh wants to forget, though, is Game 2. The Heat rolled up the Spurs using a 33-5 second-half run to take them apart. But that's over now. 
"Game 2, forget about Game 2," Bosh said. "That rarely happens in the Finals. We just had a timely assault. We were able to get off when we got a few shots, that's most likely not going to happen tonight. We just have to move on and play this as a different game. They're going to make adjustments offensively and defensively to slow us down a little bit."
An adjustment I'd suggest: Don't guard Bosh on easy dunks. Maybe he'll turn those down, too. 
A look at the various actors and elements in the latest sensational blockbuster trade in the...

Blockbuster deal doesn't change the Thunder's projected finish in the West

The Thunder strike again this offseason, and Knicks, entering a new chapter, also make out...
The Warriors have responded to the White House rescinding their invitation

Carmelo Anthony has to change his game in Oklahoma City

Thunder were 66/1 to win the title back in June