Chris Bosh travels, but reportedly 'not aligned' with Heat on treatment
Miami forward Chris Bosh is still out indefinitely.
• 2 min read
Miami Heat forward Chris Bosh sat in the locker room reading a book before Game 3 against the Charlotte Hornets on Saturday, but team officials "waved off any reporter that approached" him, via Ethan Skolnick of the Miami Herald. Bosh hasn't played or talked to the media since the All-Star break, and had not traveled for a road game until this. In March, Bosh released a statement saying he has "no active blood clots" and he was "positive" he would return this season, but the team has been mum on the subject. He remains out indefinitely.
According to the Miami Herald, the Heat have been cautious, while Bosh has been focused on getting back on the court: 
Bosh has indicated to associates that he has no plans to retire at this time and intends to play next season for the Heat. He is under contract for three seasons after this one, at roughly $75.5 million. Even if he retired this offseason, the Heat would not receive any salary-cap relief until summer 2017.
According to multiple sources, although the Heat remains supportive of Bosh (he traveled on owner Micky Arison's plane), they have not all been aligned in terms of the treatment of his condition. The team has been the more cautious party, making it known behind the scenes that, just because an outside doctor clears Bosh, it doesn't mean the team will be comfortable letting him play. That would be true even with a medical waiver that would in some way limit liability.
Bosh, eager to return, has sought opinions from multiple doctors about whether it was safe to come off the blood thinners in order to resume playing this season. On that issue, there were different opinions among the doctors consulted by Bosh, according to two sources with direct knowledge. But most of the doctors consulted believed Bosh should continue taking the blood thinners for several months, which is common treatment for the condition, even though the clot dissipated several weeks ago. That is ultimately the course Bosh took.
The Heat did not consider allowing Bosh to play while taking blood thinners, because it's highly risky to play a contact sport while doing so.
Bosh also explored the possibility of taking a different medication that would allow him to play, but that was not deemed viable.
This is all pretty weird, and in an ideal world both Bosh and the team would be on the same page. Also in an ideal world, there would be less secrecy here. Clearly Miami does not want to put its star player at risk, and Bosh does not want to keep missing out on playing basketball in the prime of his career. Without knowing all of the details, it seems sensible for the team to protect him from himself. 
The longer that both sides are silent, though, the more scared Bosh's fans are going to get. It's notable that the first bullet point in that story is about the possibility of Bosh retiring. That's where the conversation is going now, whereas it used to be about whether or not he'd be able to return for the Heat's playoff run.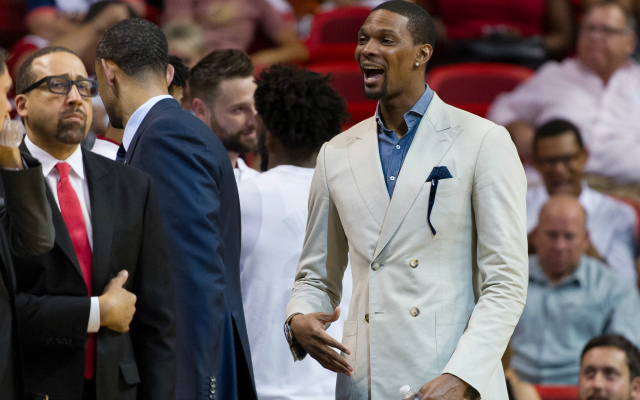 Bryant will have both No. 8 and No. 24 raised to the Staples Center rafters on Monday

The Lakers will be retiring Kobe Bryant's No. 8 and No. 24 jerseys at halftime

The Nuggets will look for their second-straight win with Nikola Jokic back in the lineup
This composition is absolutely amazing

Stephen Curry, who grew up in North Carolina, wants to be part of the next Panthers ownership...

Vince Carter is destined for a Raptors reunion; he doesn't know when it'll happen