Chris Hansen gives statement regarding arena opposition donation
Chris Hansen, one of the primary members of an ownership group that tried to move the Sacramento Kings to Seattle, released a statement on Sacramento arena opposition donation.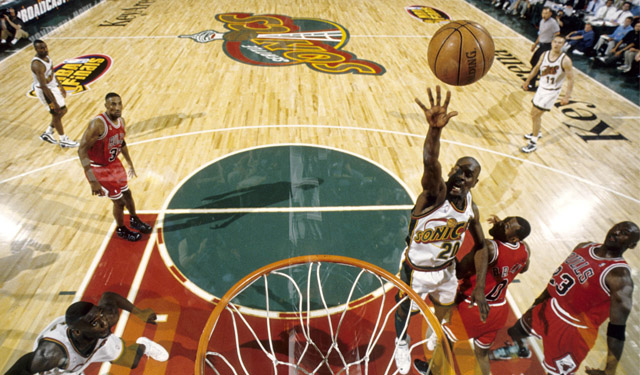 Friday, there was a report that Chris Hansen of the Hansen-Ballmer group that attempted to purchase the Sacramento Kings and move them to Seattle as the new Seattle SuperSonics donated $80,000 to a group that was trying to secure signatures to force the new arena efforts in Sacramento to be put to a public vote. It's an attempt to put a stop to the arena building efforts in downtown Sacramento, which would put the new owners and the city in a very precarious situation regarding the future of the team.
Hansen has not denied his involvement or the alleged donation and in fact released a statement on SonicsArena.com confirming the donation and explaining when and why he made such a generous and yet seemingly dastardly donation to the Sacramento arena opposition group S.T.O.P. - Sacramento Taxpayers Opposed to Pork.
I made a mistake I regret.

When our binding agreement to purchase the Sacramento Kings became a competitive situation and we were faced with both the prospect of seeing our transaction fail and losing our $30 million deposit, I engaged Loeb & Loeb to canvass the various opposition groups to gain an understanding of their efforts and the prospects of their success. 

During this time I was approached through Loeb by the opposition about making a contribution to the opposition's efforts as part of a broader group and agreed to make a donation. 

In this regard, I would just like to highlight that I have never directly engaged with or even had any conversations or contact with STOP, Taxpayers For Safer Neighborhoods, or any the various consultants engaged in the Sacramento Arena opposition. It was also not my intent to be the primary financial sponsor of the opposition's efforts. I merely agreed to make a donation to the opposition in what had become a competitive and heated process.

I have not agreed to provide any further political contributions and do not intend to make any further contributions.  

I would also just point out that the contribution was made in my personal capacity and not on behalf of our ownership group or my partners. In fact, I have never discussed the contribution with them to date. 

While I'm sure everyone can appreciate how easy it is to get caught up in the heat of battle, with the benefit of hindsight, this is clearly a decision I regret. I wish the city of Sacramento and Kings fans the best in their efforts and they have my commitment not to have any involvement in their arena efforts in the future.
It probably won't happen during this particular collective bargaining agreement but the city of Seattle will most likely be heavily considered for at least an expansion team if not a relocation attempt for another franchise within the next few years. A move like this could show a lack of good faith or proper business dealings to the league office and owners around the NBA. It's important for Hansen to be upfront about the donation and why he did it.
It's up to everybody involved to measure the level of contrition in this released statement, but if everything he's saying is true then his explanation for these actions does make a lot of sense from his perspective. It's possible he set up opposition attempts at the time in which everything was such a whirlwind with the purchase and relocation attempts. 
However, the Sacramento Bee reported that Hansen made the contribution a month after the league essentially vetoed his purchase agreement with the Maloof family and relocation efforts.
Amid a lawsuit and a state investigation, Hansen and an Orange County political action committee filed documents revealing Hansen contributed $100,000 to the petition drive on June 21 - a month after the NBA board of governors vetoed his plan to buy the Kings and move them to Seattle.
That's not a great look for Hansen but he does admit that he regrets this decision and says he wasn't directly involved with the group itself. The question is did he regret this move before he got outed as such a heavy contributor to the efforts?
Thomas took to Twitter to let the Celtics know he doesn't want to ruin Pierce's night

The Hall of Famer was a seven-time All-Star with the Celtics, and was MVP of the 1976 Fina...

It's rare to see a legit punch in an NBA fight, but this was definitely one of them
We've got all the scores, highlights and news from an NBA Tuesday

The former Slam Dunk Contest champion will take his talents to Tri-State

Do NBA players have look-a-likes from famous paintings? We found out on the new Arts & Culture...