Chris Kaman and Mike D'Antoni didn't speak for three weeks
Los Angeles Lakers center Chris Kaman tells the media he hasn't spoken to his coach, Mike D'Antoni, in three weeks.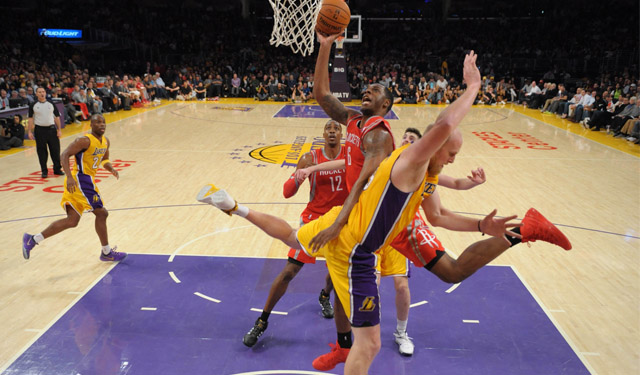 This has not been a season for the Los Angeles Lakers to remember. Kobe Bryant barely played. Steve Nash barely played. And the team has barely won enough games to even consider it an acceptable season. For center Chris Kaman, this wasn't exactly what he signed up for when he agreed to a one year, $3.1 million deal this past summer. He thought he'd play a lot more than 18.5 minutes per game over 35 games.
Perhaps his agent or the Lakers didn't communicate to Kaman what the deal was going to be when he signed with the team? According to Dave McMenamin of ESPN Los Angeles, communication seems to be an issue with Kaman and the Lakers. He claims he and coach Mike D'Antoni haven't spoken in three weeks, a stretch in which he has hardly played and possibly makes him wish he hadn't agreed to play there.
"It's been a tough year for everybody," Kaman said before the game. "It's been frustrating for everybody, including the management, down to the players to the guys who are doing the laundry. It's not been easy for anybody." 

While the 11-year veteran tried to bite his tongue, saying "it doesn't get anybody anywhere" to complain to the media, he couldn't help but reveal that he hasn't spoken to Lakers coach Mike D'Antoni in three weeks. 

In that time, he collected 10 straight DNPs and played a grand total of four minutes in 12 games. 

Does the former All-Star regret his decision to sign with the Lakers last summer? 

"My bad on my part not doing due diligence enough to look into a situation better and style of play and that kind of thing," Kaman said. 
Surprisingly, Kaman's per-minute production hasn't suffered, only his playing time. His 19.4 points per 36 minutes are tied for his career best, which happened in his lone All-Star season in 2009-10. He's tied the best assists per 36 minutes of his career and has the second best rebounding average per 36 minutes of his career.
And yet, he can't seem to get on the court for D'Antoni, largely because his style of play doesn't fit what D'Antoni likes to do. The lack of communication, if it's an accurate statement, is either incredibly unaware of both parties or incredibly childish of both parties for not speaking to each other over a three-week period. 
We've got all the scores, highlights and news from all of Sunday's games

The Rockets beat the Warriors 116-108 on Saturday night

The Cavaliers gave up 148 points in their loss Saturday afternoon to the Thunder
Blatt made the comment before coaching in the All-Star Game in Turkey

Is this rock bottom for the Cavaliers because it sure feels like it is

Wade, as he's done so many times in his career, threw it up to LeBron for the thunderous f...