Chris Paul fought back tears taking the court for Game 5
Clippers star Chris Paul says he was overwhelmed by emotion in the wake of Donald Sterling's lifetime ban.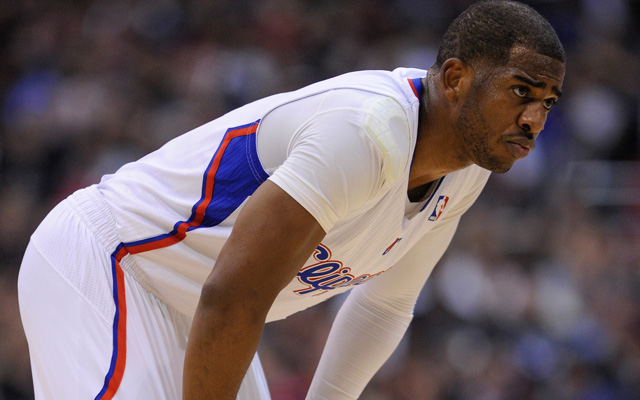 More: Sterling banned for life | Latest updates | NBA news
Tuesday's night's Game 5 between the Clippers and Warriors was obviously an emotional affair, but especially so for Chris Paul. As head of the NBPA, Paul has been at the forefront of the fallout from Donald Sterling's comments. He has a son who no doubt asked his father about what everyone on TV is talking about, and the Clippers nearly boycotted Game 4 and would have boycotted Game 5 if Adam Silver hadn't dropped the hammer with a lifetime ban and a $2.5 million fine. 
But with Drake's song, "Trophies," blaring in the background, the weary Clippers ran out to a roaring standing ovation from a packed house that nearly brought Paul to tears.

"I'm an emotional person," Paul said. "So running out for warm-ups, it took everything not to break down. That is something I will never forget forever."
via Chris Paul nearly tearful in Clippers' first home game since Donald Sterling's racist remarks - Yahoo Sports.
The Clippers won Game 5 113-103. The Clippers released a statement in support of Silver's lifetime ban on Sterling Tuesday afternoon and posted this image to their website:
Paul was facing enormous external pressure to take a leadership role regarding the situation, but even more internal pressure to resolve his conscience. He worked with Kevin Johnson to develop a strategy, and the situation comes out as a huge win for the team and the players. 
But it also shows you the hurt this episode put on so many people, most especially Paul, who signed up as the face of the franchise. Paul's class throughout the ordeal is a reflection on his person and the quality of individuals representing this era of players. 
We have all the news, notes, scores and highlights from Sunday in the NBA

Dwane Casey was incorrectly tossed for a fan yelling at the referee during Sunday's loss to...

Rajon Rondo went after Ray Allen for the excerpts that Allen wrote about him in his upcoming...
The Trail Blazers are trying to win 13 in a row. They'll have to survive a back to back to...

The Rockets and Timberwolves meet up for an intriguing Western Conference showdown

Alvin Gentry seems fed up with how officials deal with his star big man in the paint