Chris Paul is considering playing in 2016 Olympics
Chris Paul is considering playing in the 2016 Olympics after Coach Mike Krzyzewski returns as head coach.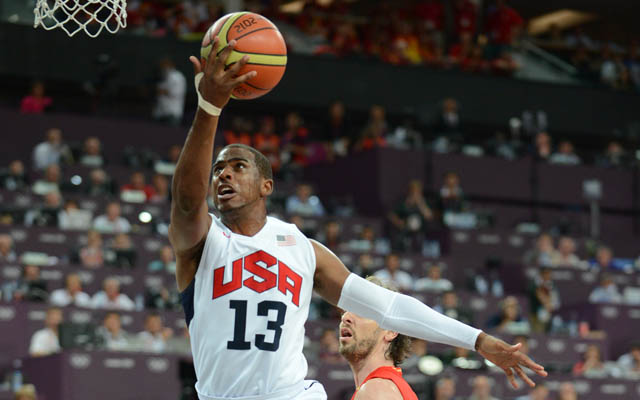 With LeBron James saying he may not play in the 2016 Olympics, there's a question of just how many stars will be available. Chris Paul had been thinking he'd skip the games in Rio, but Mike Krzyzewski's return seems to have swayed the Clippers All-Star back to the fray: 
The Los Angeles Clippers point guard, who was on the 2008 and 2012 gold medal teams, said he was leaning heavily toward bypassing the 2016 Games -- until Dukes Mike Krzyzewski announced he was returning to coach the team.

"If it had been another coach than Coach K, I was prepared to be done," Paul told ESPN.com.
via Chris Paul of Los Angeles Clippers considering 2016 Games due to Mike Krzyzewski return - ESPN.
It's good of Paul to consider it, they'll need th veteran leadership. But suprisingly, Paul doesn't move the needle much on how effectivet the 2016 team can be. Paul has traditionally struggled, or at least been muted in the games. The play style is an adjustment for his sensibilities, and the point guards are often bigger and more physical, giving him problems defensively. 
Still, Paul works well as a perimeter shooter and someone to manage the offense. If the team gets Paul back in 2016, he could take on the same kind of role Jason Kidd did in the mid-00's, back when he was only, like 55 years old. 
George suffered a similar injury in 2014, and immediately offered Hayward encouragement

A certified athletic trainer says Hayward is 'hard-pressed to get back this season'

Mike McClure, a DFS pro with more than $1M in winnings, gives optimal DraftKings and FanDuel...
The two have been trained together in the past and still keep in regular contact

Anthony opened up about finally leaving New York after years of rumors

Jonah Keri talks to with Ringer author, and Grantland alum Shea Serrano