Chris Paul likely to return to Sunday, targeting All-Star Game
Los Angeles Clippers' point guard Chris Paul is likely to return Sunday with the hopes of being ready to play in the All-Star Game next week in New Orleans.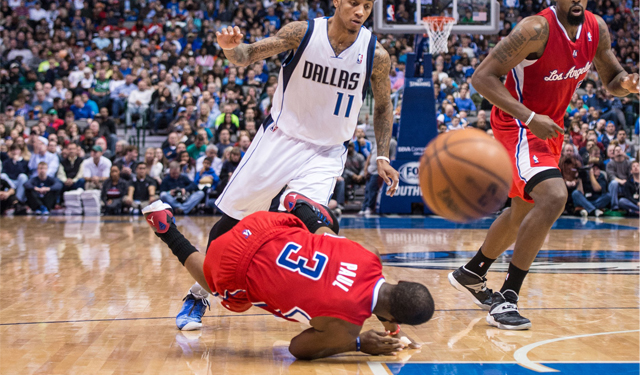 Chris Paul has been missing from the Los Angeles Clippers for over a month now with a separated right shoulder. He injured it after getting fouled in a January 3 win over the Dallas Mavericks. The Clippers have managed to survive the weeks without Paul in the lineup, but probably won't have to figure out how to do that much longer.
Assuming there aren't any setbacks in the next couple of days, Paul will re-join the Clippers on Sunday when they take on the Philadelphia 76ers at home. It will give him roughly a week to make sure he's healthy enough to be back with the team and get ready for the All-Star Game in New Orleans on February 16. From ESPN Los Angeles:
Point guard Chris Paul, who has been sidelined since Jan. 3 with a separated right shoulder, likely will return to the starting lineup Sunday when the Los Angeles Clippers play the Philadelphia 76ers.

Paul has been participating in contact drills and shootarounds, but the Clippers have not had a full practice in almost two weeks, preventing him from practicing with the team.

The Clippers canceled practice Thursday and are expected to sit Paul for Friday's game against the Toronto Raptors. If Paul practices Saturday without any problems, he will play Sunday.

"The All-Star Game is in New Orleans, and that's a part of me," Paul said. "That's where I played my very first All-Star Game, and anytime you have that opportunity, I'm not going to pass it up, because it's not guaranteed to happen next year."
Paul's first six seasons in the NBA were in New Orleans when he was with the Pelicans' franchise, then named the Hornets. He was an All-Star with the club four times with his first All-Star appearance in 2008 happening in the city of New Orleans. He scored 16 points and had 14 assists off the bench in that game. 
The Clippers have survived without Paul thanks to Blake Griffin stepping up in his role as the team leader and the team taking advantage of a softer schedule that couldn't have come at a better time. They've gone 11-6 during this time and face the Toronto Raptors at home Friday night. Paul is averaging 19.6 points and 11.4 assists in 34 games this season.
Thomas is rehabbing from a hip injury that cut short his 2016-17 playoff run with the Celt...

James wondered whether he did something to drive Irving away

Beal went on a tangent at Washington's media day about Trump's recent comments
The Cleveland Cavaliers also have 6-1 odds of landing the former Bulls and Heat star

OKC fans welcomed the 10-time All-Star at the airport with chants of 'Melo!'

Jordan joined LeBron James to show support of those who wish to exercise their freedom of...